Mexico City New Years Eve 2019
Fireworks, Events, Parties, Hotels, Restaurants, Concerts
Mexico City, Mexico, 31 December 2018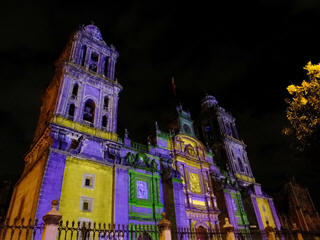 In general the people in South America don't tend to make a big deal of new year's eve, preferring to spend a quiet evening at home with friends and family, this is large part helps explain why the South American pages of this site are sparsely populated compared to those for the USA and Europe in particular.
There are notable exceptions though, the Copacabana beach party in Rio de Janeiro is the obvious one, but another is most certainly Mexico City, where a huge street party attracts crowds in their thousands to welcome the new year.
Mexico City itself is a huge city, with a population of over 9 million spread over the sprawling urban area, and everyone knows the Mexican people like a party. There are numerous attractions to make the visit worthwhile, so if you are here over new year be sure to make time to see things like the Chapultepec park, the Palacio de Bellas Artes, Mexico City's Metropolitan Cathedral and the Great Pyramid of Tenochtitlan.
Things to do
So where do you head for on new year's eve to find the biggest party to welcome 2019? In Mexico City there's only one answer, and that's the enormous street party on the famous Zocalo, the main square right in the heart of the city. The party area spreads out right across the central area, with roads closed from Palacio de Bellas Artes to Paseo de la Reforma Boulevard.
The party itself gets underway earlier in the day and contains everything you would expect to find at a Mexican street party, live music from popular bands, dancing, colourful costumes, a plentiful supply of food and of course the huge fireworks display at midnight.
if you would like to blend in with the locals then it's worth remembering that Happy new Year here is Feliz ano nuevo! and also take the time to acquaint yourself with some of the local traditions, such as eating 12 grapes to coincide with the 12 chimes of midnight, making a wish for the coming year with each one.
Away from the main party, the re aren't too many bars and clubs around the Zocalo so you will have to head a little further afield if you want to continue partying after the midnight fireworks have died down. Lively venues to look out for include Joy Room, Lemon Club, Mix Up, Ragga and Le Palais Club Pedregal. Online ticketing options aren't always the best, we recommend talking to your hotel's concierge, who will also be able to give you a heads up on any areas you might prefer to avoid.
For your new year dining options then obviously Mexican food is by far the most prevalent, but in such a large metropolitan city you'll find most international cuisines represented. Recommended eateries include Los Sabores de la Vida, Les Moustaches Restaurante, La Bodega and La Hacienda de los Morales. It's also a decent place to be vegan, with most dishes available meat-free, I particularly like the look of Fonda el Refugio. Choose from the full range of options here.
NYE Live Streaming, Webcams
Places to watch live online: there aren't often too many live webcam views in South American cities, but here we've struck lucky, this site has several great views from across the city, including a live cam right at the Zocalo where you'll be able to watch the party as it actually takes place:
New Years Eve Hotels
There is a huge range of accommodation to choose from in Mexico City, and prices are comparatively very reasonable if you're used to paying US or European rates. Trying to find a room with a view is always a good idea - the Best Western Hotel Majestic in particular has views over the Zocalo, as do many of the upper floor rooms, many of which also have balconies.
As always it's best to book well in advance to secure the best rooms - you can search, check availability and book local hotels here.
Latest NYE News
The content on this page is written and maintained by Martin Kerrigan. If you have found it useful then please feel free to share it with your friends and family. If you have any comments or events to add to this page please Contact us.