Manly New Year's Eve 2019
NYE parties, events, restaurants & hotels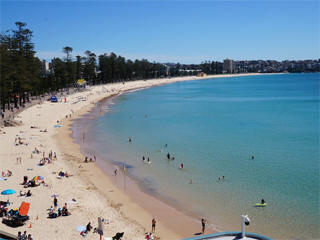 Manly is one of my favourite places anywhere in ther world so has to be a top choice for a new year's eve party. There is of course the proximity of the huge fireworks display just a few miles away in Sydney, but if you do decide to forgo the trip across the harbour and stay in Manly itself there will still be plenty to keep you occupied.
It is of course summer in December so if you are here over Christmas and new year it's likely beaches will feature heavily on your itinerary, and you are completely spoiled for choice, with Manly beach itself impressive enough, but the other famous northern beaches also vie for attention, with Curl Curl, Dee Why, Avalon, Collaroy and of course Palm Beach among my personal favourites.
Fireworks
With the huge fireworks displays taking place just across the harbour in Sydney you might not expect to find any fireworks in Manly itself but you would be mistaken with a 9pm display taking place at Manly Cove, meaning you can attend here and still just about have time to head across the harbour by midnight. See all the latest on the main Sydney new year fireworks here:
Sydney new year's eve fireworks
The Manly Cove fireworks are actually part of a whole evening of new year events centred around the East and West Esplanade in Manly, in the areas around the wharf, including live entertainment and plenty of options for food and drink at local establishments such as Hugos, the Bavarian Beer Cafe and my personal favourite the 4 Pines Brewpub.
If you want to watch the main Sydney display from a distance then some of the best views are available form up on North Head, it is walkable from Manly but the road is dark and quiet so be careful.
Bars & Restaurants
Around Manly there will be lively parties in most of the bars, hotels and restaurants. Head down the Corso to the Steyne or the New Brighton Hotel and grab pizza or a falafel from one of the many takeaway places or try a full dinner at one of the busy restaurants.
For dessert you can't go far wrong with a visit to Doughnut Time opposite Manly Wharf, where there are even several vegan offerings. Try the Sia Later and i guarantee you won't be disappointed!
Manly Ferry
The famous Manly ferry gets in on the act on new year's eve and you can actually choose to head out onto the water to watch the fireworks in Sydney harbour (both the 9pm and midnight displays) on board the ferry, although these trips will cost a littole more than the standard Opal card fare and do sell out quickly so be sure to book well in advance - full details and online bookings are available here.
New Years Eve Hotels
Accommodation in Manly is pricey all year round and especially so over new year, with even the backpacker places charging a premium. The best hostel is probably The Sebel Manly Beach but be warned it won't be cheap. Try checking out Airbnb for late offers too.
You can search for deals at all of the best Manly guest houses plus other local hotels here.
Live Streaming, Webcams
There are a couple of webcams in Manly but they are surf cams on the ocean beach so won't do you much good in seeing the Esplanade fireworks. This same page does have a camera at Dee Why beach though, and there is a new year fireworks display at Dee Why that you should be able to see on that one:
You can of course watch the main Sydney fireworks live online:
Sydney NYE fireworks streaming
Latest NYE News
The content on this page is written and maintained by Martin Kerrigan. If you have any comments or events to add to this page please Contact us.