Louisville New Year's Eve 2019
Fireworks, Events, Parties, Hotels, Restaurants, Concerts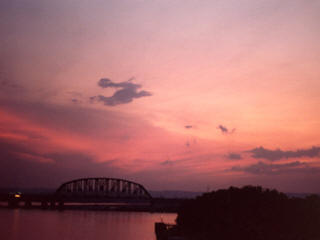 We're looking further and further off the beaten track for top new year's eve parties and away from the established and predictable events to find US towns and cities with new year parties that you may not have heard of, in locations that wouldn't automatically be associated with being somewhere to visit over the holiday period.
We were of course familiar with Louisville, thanks to it being the home of the famous Kentucky Derby, and anyone who has seen that will know all about the Thunder over Louisville, so there's no doubt they know how to throw up some spectacular fireworks, a key NYE party component! We didn't realise however that it is actually the 27th largest city in the United Stares, making it a sizeable metropolis, and that they also throw a decent new year's eve party...
Things to do
The big event in Louisville on new year's eve then is the Fourth Street Live new year party (most commonly abbreviated to 4th St. Live for sheer convenience!) This event, sponsored for 2019 by Bud Light, is a free event that takes place, surprisingly enough at Fourth Street Live!, a vast entertainment and retail complex located on the city's central 4th Street, in between Liberty Street and the excellently named Muhammad Ali Boulevard.
The event starts at 9pm local time and includes live music, coverage of the ball drop from Times Square in New York on a giant LED screen and come midnight a balloon and confetti drop plus of course the fireworks display. Although the main event is free, you can purchase all access passes that will also get you into the local bars and clubs, including Tengo Sed Cantina, PBR Louisville, The Marquee Bar and the somewhat worrying-sounding Kill Devil Club!
This year we are also expecting a big new NYE event at the KFC Yum Center, who are promising a huge New Years Eve Bash is what is expected to become a popular annual event.
For those seeking a quieter evening, or maybe just looking to fuel up ahead of hitting the town, then the Louisville dining scene has plenty to offer too. Top rated eateries include Havana Rumba Cuban, Jack Fry's, the Mayan Cafe and for fine dining, The Oakroom. There aren't too many veggie options, but Heart and Soy provides a decent option for vegans and vegetarians. See all the Louisville restaurant choices here.
NYE Live Streaming, Webcams
Places to watch live online: there are a few webcams located around Louisville, including some skyline views where you might be able to catch some of the fireworks:
The 4th Street Live party is actually hosted by local radio channels Radio Now 98.9 and Gen X Radio 100.5, so we would at the very least expect them to bring us some live coverage - we'll post any links we find right here.
New Years Eve Hotels
Kentucky has a range of accommodation to suit pretty much any budget, and Louisville is no exception, with everything from small guest houses to top end hotels. To start your search for hotels, check availability and make online bookings, visit local hotels here.
Latest NYE News
The content on this page is written and maintained by Martin Kerrigan. If you have found it useful then please feel free to share it with your friends and family. If you have any comments or events to add to this page please Contact us.