Las Vegas New Years Eve 2018
Fireworks, Countdown Events, Live Stream, Parties, Concerts
Las Vegas, Nevada, 31 December 2017, Midnight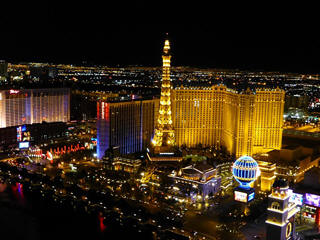 Las Vegas, enjoys a reputation as the party capital of the United States as the best of times, so New Years Eve generally just offers the opportunity to crank the festivities up another notch. Celebrations will focus on the Las Vegas Strip, with a live big screen concert a popular attraction, while all the major hotels and casinos will offer their own eclectic mix of parties, concerts, discos and fireworks of all kinds!
Vegas is big for parties pretty much all year round, so at new year this is simply notched up another level, with a huge variety of things to do and places to go. It is very much a destination that is on my bucket list, but if I do find myself stateside for new years I would probably initially opt for the more predictable Times Square experience, but once that's out of the way then this could well be next. Shame the time difference isn't a little more than 3 hours, could do both in one year then!
Another thing that appeals about this place is the surprisingly wide range of vegan cuisine available in a place more associated with bright lights and fast living, but it's certainly an added bonus as we would have plenty of places to choose from for our new year's eve dinner before heading off down to the casinos on The Strip to join the party, listen to the live music and of course watch the fireworks!
New Year Fireworks, Events, Parties
There will of course be enhanced security in Vegas this year, with the addtion of steel bollards and plans to ban backpacks and childrens pushchairs form the main celebration area, so just bear this in mind when planning your evening.
Plans for the New Year fireworks are usually announced by the famous Grucci of New York. They generally include more than 80,000 fireworks being launched from the rooftops of The Strip's casinos, with MGM Grand, Aria, Planet Hollywood, Caesars Palace, Treasure Island, The Venetian and The Stratosphere all taking part.
The display gets underway with a 10 second pyrotechnic countdown from the Stratosphere tower, the tallest structure in town. One excellent viewing point is the Eiffel Tower Experience at Paris Las Vegas, where you'll actually be able to see real fireworks, unlike the new year event in the real Paris, where they have to make do with a light show!
A crowd of over 340,000 party goers is expected on The Strip so make sure you get there in plenty of time to secure a good vantage point! Or you can take to the High Roller, the tallest observation wheel in the world, for a panoramic, 360 degree fireworks view.
Other great viewing points include the Skyfall Lounge on the 64th floor of Delano, the Foundation Room on top of the Mandalay, the Stratosphere Hotel and the marquee Nightclub, right in the middle of the strip.
Perhaps the ultimate view of the fireworks can however be secured by actually taking to the skies - local helicopter tours specialists Sundance Helicopters will be operating the Sundance Fireworks Spectacular Tour, offering great aerial fireworks views along with a champagne toast - seats are very limited to secure yours quickly here.
The Stratosphere Casino, Hotel and Tower also hold a number of new year events in their various bars and restaurants, including New Year's Eve Dinner at Top of the World Restaurant, a SkyLine Celebration on Level 107, Stargaze Party In The Stars on Level 108 and a VIP Tower Party. See below for booking details.
The Fremont Street Experience will again host their Downtown Countdown New Year's Eve celebration, street party and fireworks event, which starts at 6pm and lasts right through to 3am, including special effect canopy fireworks and live music
In big live music news, the Foo Fighters will be in Vegas this new year's eve, playing live at The Chelsea at The Cosmopolitan of Las Vegas. Tickets are available here.
This is only a small part of whole host of new year parties at The Cosmopolitan - they are also hosting special events at their rooftop Ice Rink, at The Chandelier and in the Marquee nightclub. The also have the Zac Brown Band at The Chelsea on Decmber 29th and Duran Duran in the same venue on the 30th!
Elsewhere, live musical performers include Britney Spears at Planet Hollywood, Celine Dion at the MGM Grand, Bruno Mars at The Monte Carlo and Maroon 5 at Mandalay Bay.
There is a huge range of nightclubs in Vegas, centred on The Strip, but spread right across the wider metropolis too, so you really have a huge range to choose from.
Top destinations for your new year party on the Las Vegas Strip include the New York-New York Hotel & Casino, The Sporting House and Gonzalez Y Gonzalez and The Venetian Resort.
For dining on new years in Vegas there's a good chance the hotel/casino you're in will have restaurant, probably with one of the buffet deals the place is famous for! If you would like to venture out though you won't be disappointed with the range and quality that's available - the Top of the World revolving restaurant at the Stratosphere Tower in particular offers one of the best views in town. There is an almost unbelievable 3500 eateries listed and reviewed right here
NYE Live Streaming, Webcams
Places to watch live online, including a live stream from The Strip:
This year there will also be live streaming webcast coverage from Vegas included as part of the nation's iconic new year show on ABC TV, namely Dick Clark's New year Rockin Eve - you can watch this online here:
Rockin' New Years Eve live stream
For this first time this year there is also a mobile app avavilable for both iPhone and Android which will allow to watch the fireworks on your mobile device from anywhere in the world, you can download the Fireworks by Grucci app here:
New Years Eve Hotels
If you're planning on visiting Las Vegas over the New Year period, then there is an enormous range of accommodation options, and you're going to pay a premium for anything on The Strip, especially if you would like a room with a view of the fireworks, so early reservation is very strongly recommended.
Tahiti Village is a good choice for fireworks viewing, with an excellent vantage point from Skyview 510, their 10th floor lounge.
You can search, check availability and book local hotels here.
Popular Pages
The content on this page is written and maintained by Martin Kerrigan. If you have found it useful then please feel free to share it with your friends and family. If you have any comments or events to add to this page please Contact us.