Lake Tahoe New Years Eve 2019
Fireworks, Events, Music Festival, Parties, Casinos, Hotels
Lake Tahoe, California/Nevada, 31 December 2018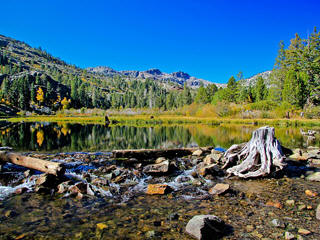 Lake Tahoe is an excellent choice for new year's eve, with winter sports activities mixed in with a wide range of parties, spectacular fireworks and even a huge music festival in the shape of the annual SnowGlobe Music festival giving something for everyone to do in this beautiful part of the world.

Straddling the border between California and Nevada, we've include Lake Tahoe in our listings for both just to make sure people can find it, this is a place you definitely want to visit at any time of year, and if you can make it for the new years eve celebrations then so much the better. We should point out that the main parties here are centred around the town of South Lake Tahoe, the largest urban area in the region surrounding the lake, and technically located in California.
Things to do
The SnowGlobe Music Festival is one of the big attractions over the new year period in Lake Tahoe, bringing 3 nights of live music entertainment into town, running from the 29-31 December and located at the Athletics Field at The Lake Tahoe Community College campus.
This unique venue offers a fantastic fusion of music and mountains, and the crowds here are drawn from the large and vibrant ski and snowboard community that make the resort their winter home.

We'll bring you the full lineup for this year's SnowGlobe as soon as we get it – you can keep an eye on the official site for ticket availability here.

If it's fireworks you're looking for, then head to the Heavenly Village in South Lake Tahoe for their spectacular new year party. This event includes live music, ice carving and a Gondola ball drop, timed to coincide with the ball drop in Times Square, New York. This early wrap up to the event means people can avoid the worst of the plummeting temperatures and head to one of the many local clubs or restaurants to continue their celebrations. Get more details on this event here.

There is also a very popular annual new year party right on the state line at the MontBleu Resort Casino & Spa, which hosts lively parties in several of it's venues, including the Opal Ultra Lounge, Blu Nightclub and the Convention Center.

For dining options there is no shortage of possibilities for your new year meal in Lake Tahoe. Popular venues that offer special new year dining menus include the Hard Rock Hotel and Casino and the Lone Eagle Grille at the Hyatt Lake Tahoe.
NYE Live Streaming, Webcams
As is common with a lot of ski resorts there are several live webcam views you can check out if you would like to watch the new year celebrations live:

Lake Tahoe webcams
New Years Eve Hotels
Accommodation is centred around South Lake Tahoe, and while there are several extremely pricey high end resorts in the area you will also find some more budget options if you need to stretch your funds a little.
You can search for deals at all of the most popular local hotels here.
Latest NYE News
The content on this page is written and maintained by Martin Kerrigan. If you have any comments or events to add to this page please Contact us.