Kansas City New Years Eve 2019
Fireworks, Events, Parties, Hotels, Restaurants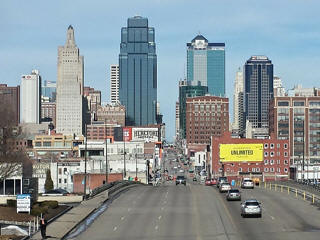 OK, hands up, who has always assumed that Kansas City was in the state of Kansas, and with name like that almost certainly the state capital?
Have to confess I had previously been in this category, so was more than a little taken aback when researching the top midwestern new year's eve venues to find it sitting proudly in the state of Missouri, and is in fact the largest metropolitan area in the whole state, with a population of almost half a million people.
This scale of course means that come new years eve there will be a wealth of party options to choose from, with plenty going on across the city - see our listings in the section below for more details. if you are heading to Kansas City (KC to it's friends) over new year then you'll likely also want to be checking out some of the other main attractions, such as the National World War I Museum at Liberty Memorial, the Nelson-Atkins Museum of Art, the Worlds of Fun theme park and the Kauffman Center for the Performing Arts.
Things to do
Perhaps somewhat unusually for such a large city, and such an important point in the state, there doesn't appear to be a central, publically funded fireworks display for new year's eve 2018-2019. I'm more than happy to be corrected on this point however, so if you know differently, or even just where the best place to head for pyrotechnics fans happen to be then please let us know.
One thing I have been able to discover is that many of the local bars, hotels and restaurants that hold their own new year parties do manage to incorporate fireworks into their festivities, so check out the rest of the party listings to see where your best options may be.
This does of course also means that the sky will be lit up come midnight, so anywhere you can find a decent vantage point with a view over the city you will be sure to see some fireworks. Berkley Riverfront Park looks like a decent option, with wide open spaces combined with clear views over the city
One of the biggest NYE parties is at the Kansas City Power and Light District, promising the biggest midnight countdown in the midwest, where along with the obligatory fireworks there is also a ball drop, champagne toast and confetti cannons! There is also live music throughout the evening and a number of bars, with top shelf packages available - more details here.
Another big party takes place at The Temple, a venue that holds 2000 revellers. This new year will be the 7th year this party has taken place, giving it the catchy title NYE 2019 at The Temple VII. This offering includes top live DJs and unlimited premium drinks all evening with of course the obligatory VIP options - ticket sales will be online here.
There is a Black Party (referring to the dress code) new year's eve event at Californos, located in Historic Westport. This includes a premium bar, classic cocktails, extensive buffet and VIP options. Tickets are available online here.
For comprehensive listings across all the city's venues I recommend keeping an eye on the excellent Visit KC website, where all the top parties are catalogued, including those at the Country Club Plaza, Crown Center and across the downtown area.
If you're looking for new year dining options then KC won't leave you disappointed. Top recommended venues include Seva Cuisine of India (which also caters for vegans and vegetarians) The Capital Grille, Fogo de Chao and Fiorella's Jack Stack Barbecue. We also like the look of Cafe Gratitude for a vegan choice. See the full range of Kansas City's restaurants here.
NYE Live Streaming, Webcams
Places to watch live online - there are some great webcams located across Kansas City, giving a number of views across the cityscape and presenting an ideal opportunity to be able to watch the fireworks live online come midnight:
New Years Eve Hotels
Kansas City has an excellent variety of accommodation types, and with a relatively compact central region most are within close proximity to the main bar and club parties so you shouldn't have too many problems finding somewhere to stay. For availability and reservations you can book local hotels here.
Latest NYE News
The content on this page is written and maintained by Martin Kerrigan. If you have found it useful then please feel free to share it with your friends and family. If you have any comments or events to add to this page please Contact us.