Jamaica New Years Eve 2019
Fireworks, Events, Parties, Hotels, Restaurants, Concerts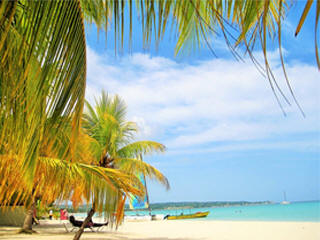 What could be more fabulous than seeing in the New Year in the Caribbean. With stunning beaches and a plethora of activities, Jamaica is the 4th largest Island country in the Caribbean, with a staggering population of almost 3 million, so it makes sense that this would be a hub for party goers and those of you hungry for adventure, but still looking to take time for serious R&R when the new year comes around.

If you love the water, there are plenty of sailing opportunities, from lagoon cruises to catamarans, if you're a land lover and near Negril, then take a walk along 7 Mile Beach (slightly misleading as it's only just over 4 miles!) which looks desperately beautiful. If you're up by Port Antonio, stop by Reach Falls (or if you're in Kingston about 2 hours drive away) take in this small but magical waterfall where you can swim in the crystal blue water!

There really is something for everyone here to make it a truly memorable vacation, with Kingston the focal point for some of the biigest new year parties. Jamaica is just one of our many featured Caribbean new year destinations - see the full range on our Caribbean new year page.
Things to do
If you're in or near Kingston, head to Ocean Boulevard at the Waterfront for a day of celebration. There's food stalls, kids entertainment, market stalls, street party (from 6pm) and a great stage show (from 9pm). Starting from 3pm and going all day, you'll have an amazing time with thousands of fellow revellers waiting for the big firework display at midnight which can be seen for miles around!

If you're on the opposite side of the island at Negril, then most of the resorts there have New Years Eve parties, with lots of firework displays on the beach.

For those looking for a bit of luxury, head to the celebrities favourite spot, Port Antonio, with stars like Beyonce, Tom Cruise and Scarlett Johansson visiting this idyllic location, it's a a slightly more low key party destination but you can head to the downtown area for music and parties.

The bars, restaurants and clubs will have special New Year menus and events so book in advance.

Some restaurants you might want to visit are:

Just Natural (Negril)
Rockhouse Restaurant (Negril)
Tango Nuevo Tapas & Wine (Kingston)
Casa Domenico (Kingston)
Mike's Supper Club (Port Antonio)
NYE Live Streaming, Webcams
Having hunted high and low, this is the only LIVE webcam I can find that's actually working. A few of the hotels seem to have webcams but they are either not in use or just still images.

Live webcam from Ricks Cafe
New Years Eve Hotels
Jamaica is a gorgeous place to visit, so wherever you are on the island make the most of it with great accommodation:

The Trident Hotel (Port Antonio)
The SPA Retreat Boutique Hotel (Negril)
Jamaica Inn (Ocho Rios)
Catcha Falling Star (Negril)
Strawberry Hill (Kingston)
You can search for deals at all of these venues, plus other local hotels here.
Latest NYE News
The content on this page is written and maintained by Yvonne Kerrigan. If you have found it useful then please feel free to share it with your friends and family. If you have any comments or events to add to this page please Contact us.