Jacksonville New Year's Eve 2019
Guide to NYE 2018-2019 in Jacksonville; top parties, hotels, restaurants and new year events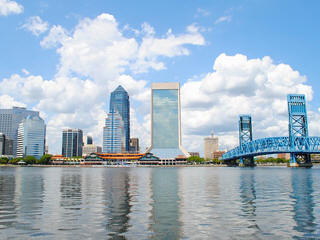 Jacksonville has a great range of new year parties, with the NYE Jacksonville Landing party and fireworks, Jax New Year's Party and the New Year's Eve River Bash among the top parties to attract the crowds.
The city also has a wide range of new years celebrations and fun party activities in the town's many bars, clubs and restaurants. It isn't the most well known of the Florida new year party destinations but if you do spend time here over the festive season you won't be disappointed. If you're looking for huge concerts and fireworks displays though Miami might be more you style, check out all the new year's eve events in Miami new year's eve.
The town is focused on the St Johns River and the Jacksonville Beaches scattered along the Atlantic Coast, collectively locally often just referred to as The Beach and including Mayport, Atlantic Beach, Neptune Beach and Ponte Vedra Beach - these ocean front locations are the focal point for many of the spectacular fireworks you will see lighting up the sky as midnight and 2019 arrives.
City of Jacksonville Fireworks
The new year party to welcome 2017 saw the arrival of the NYE Bowl Bash free concert in Jacksonville, although this proved to be a one-off event and was replaced last year by a new year's eve celebration at the Jacksonville Landing.
We expect to see this return again for new year's eve 2019, and should once again feature live music throughout the afternoon and evening (starting from 4pm) followed by a spectacular fireworks display at midnight. Full details and lineup to follow.
Taxslayer Gator Bowl
The Taxslayer Bowl (Gator Bowl to locals) takes place in Jacksonville on the 30th December this year, and is preceded by a Touchdown Party at Everbank Field as well as a series of Pep Rallies taking place on December 30th, along with the Community First Jacksonville Light Boat Parade, which gets underway at 7.30pm and includes a 9.30pm fireworks show.
Keep up to date on all the official game week and NYE events here.
NYE at Indochine & Buddha Lounge
The Party Legion return again this year with their annual NYE Celebration in Historic San Marco at Indochine / Buddha Lounge. The event this year will feature RSVP dinner parties, midnight champagne toast, live DJ's and more!
You can expect to find a euphoric atmosphere, extravagant dance floor perfect for live music & dancing, beautiful art work with exotic drinks and cuisines native of South Asia.
Combined with live entertainment & Party Legion's premium party experience, you're in for a New Year's Eve celebration to remember! Get more details and buy your tickets online here.
New Year's Eve River Bash
Also returning this year is the Annual New Year's Eve River Bash, taking place at the Deep Blue Event Space at Jacksonville Landing, an all-inclusive event including food, drink, music and great views of the fireworks from their balcony.
Get more details and buy your tickets online here.
Jacksonville Symphony New Year's Eve
The Jacksonville Symphony Orchestra will also be performing their New Year show at the Times-Union Center for the Performing Arts.
Ticket details to follow.
Parties & Events
There is a wide range of other new year's eve parties across Jacksonville on new year's eve, with top venues including MOCA, The Jacksonville Zoo, Adventure Landing, Comedy Club of Jacksonville, The Sheraton Hotel and St Augustine Beach - we recommend you contact the venues for the very latest on this year's celebrations.
NYE Live Streaming, Webcams
There aren't many options for live viewing here, but some of the webcams can help give you some views around town over the festive period:
New Years Eve Hotels
For hotels, bed and breakfasts, guest houses and a full range of accommodation across all budget ranges and to cater for most tastes, visit and book local hotels here.
Latest NYE News
The content on this page is written and maintained by Martin Kerrigan. If you have found it useful then please feel free to share it with your friends and family. If you have any comments or events to add to this page please Contact us.