Celebrate New Year's Eve 2019 in Innsbruck
Best Fireworks, Events, Hotels & Restaurants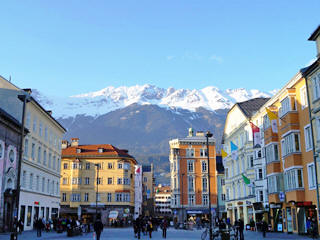 Oh, my, goodness! If you are fortunate enough to find yourself in Innsbruck for New Year, then prepare for some amazing festivities, as the Austrians know how to throw a party! It is picture perfect when it comes to the festive season, with Christmas Markets in places like Marktplatz, the Maria-Theresien-Strasse and in the Old Town, festive entertainment, trees, decorations and illuminations.

Innsbruck has something for everyone, from winter sports like skiing, winter hiking, snow boarding and tobogganing to the architectural delights of the stunning Imperial Palace. Go see the collection of life size bronze figures in the Court Church (The Hofkirche), or seek out the famous Golden Roof in the old town and wander the Cathedral of St. James. Feeling fit, then climb the City Tower for some amazing views.

If you are a fan of Swarovski, then a trip to Kristallwelten (Crystal World) is definitely for you! There is a shuttle bus that takes you from Innsbruck to the museum where you can be dazzled by the various Chambers of Wonder!

For the adventurers out there, get on up to Igls for the Olympic Bobsleigh, Luge and Skeleton Track where you can actually ride the bobsleigh as part of a team (you have to book for this though).
Things to do
To bring in the New Year, you have plenty of options in Innsbruck. There is the annual Party in the historic Market Square in the city centre, where the festivities begin around 6.30pm, then the DJs take over at 9pm. Enjoy live music and entertainment and you may want to brush up on your dancing skills and take part in the customary Donauwalzer (Blue Danube) Midnight Waltz which just sounds incredible! What an amazing sight, thousands of people waltzing under the fireworks lighting the sky, just beauitful.

The fireworks tend to be from the Nordkette Mountain Range, which can be seen easily from the town, so grab a glass of the sparkly stuff and enjoy an amazing New Years Eve in this gorgeous place!

There is also a huge club night at Congress, Innsbruck. Thousands flock here for a night of fantastic music and dancing.

I've also just seen that you can party on the Nordkette in an Igloo! That's right people, see in the new year clubbing in an igloo on a mountain and enjoy the incredible fireworks from 1,905m! (The cable car runs until 2.30am, so you can get back home safely)

For the kids, Innsbruck throws a Children's New Year Festival in the Market Square from 2pm finishing off at 5pm with a fire show!

If you happen to have a car and want to see something fun, then drive up to Achensee Lake for 12.30pm, along with thousands of others to witness the incredibly brave (or crazy) swimmers take on the annual Icy dip and if you're looking to finish off the year with something memorable, you may want to join in!

The restaurants will get booked up very quickly as people reserve their favourite spots, so book well in advance so you're not disappointed.

Il Convento
Chez Nico
Adlers Restaurant
Ristorante & Pizzeria Da Rocco
Europa Stueberl
NYE Live Streaming, Webcams
There are a couple of webcams available for Innsbruck, so hopefully one of these will capture some of the New Year Celebrations!
New Years Eve Hotels
With all the amazing festivities going on, you're going to want to be as close to the action as possible, so it's important that you get your hotel booked asap as they will be in high demand.

Adlers Hotel
Gasthof Weisses Rossl
Grand Hotel Europa
Ibis Innsbruck
Hotel Leipziger Hof
To check availability and make reservations at these and all the top hotels in the area, you can make online bookings here.
Latest NYE News
The content on this page is written and maintained by Yvonne Kerrigan. If you have found it useful then please feel free to share it with your friends and family. If you have any comments or events to add to this page please Contact us.