Helsinki New Year's Eve 2019
Guide to new year's eve in Helsinki. Top fireworks, parties, restaurants and hotels for NYE 2018-2019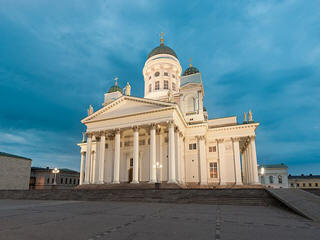 Helsinki, in common with most major cities of the Scandanavian countries, makes a pretty big deal of new year's eve, with a spectacular midnight fireworks display over the capital city to welcome the new year.
The climate in Helsinki at this time of year makes visiting an activity only for the hardy, as sub zero temperatures and long hours of darkness characterise the winter season, but for those who make the effort they will be well rewarded with a modern, vibrant city that is exceptionally welcoming to visitors and of course know how to throw a fabulous new year's eve party!
Fireworks
The highlight of the celebrations will be of course the spectacular midnight fireworks display - in previous years these have taken place in Senate Square, but for new year 2019 the location has moved to the much more recently developed Kansalaistori Square, located in between the Music Centre and the Museum of Contemporary Art Kiasma along Mannerheimintie
There will be crowds of tens of thousands in the square as locals and visitors alike join to enjoy the party, and the buildup to the fireworks will include live musical performances, tradiitional speeches and dancing.
Restaurants
Away from the main party, or if you're looking for somewhere to fuel up in advance, there are a number of highly rated restaurants in the city, including Passio Kitchen and Bar, Olo Ravintola, Ragu, Juuri and Nokka. Vegans are well catered for by a range of options including Bar Sandro and Zucchini. See the full range of Helsinki restaurants, many with online booking options, here.
Christmas Market
If you are in Helsinki over the festive period then it would be remiss to not mention the importance of a visit to the Christmas market, located in Senate Square and offering the usual range of festive food, drinks and entertainment.
NYE Live Stream
The new year celebrations will be broadcast live by the national Finnish TV Broadcasting Company Yle, which should also be streaming live online here:
Alternatively you might like to check out this live streaming webcam view:
New Year's Eve Hotels
There are plenty of hotels to choose from in Helsinki but as a relatively small capital city capacity does tend to fill up quickly, especially over busy periods like Christmas and new year, so we advise booking as far in advance as you can.
You can search for deals at all local hotels here.
Latest NYE News
The content on this page is written and maintained by Martin Kerrigan. If you have any comments or events to add to this page please Contact us.