Havana New Years Eve 2019
Fireworks, Events, Parties, Hotels, Restaurants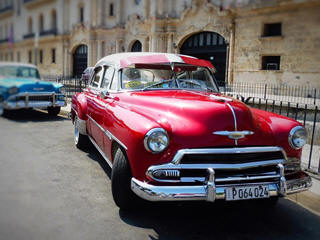 Buenos dias, and what a good day it would be if you found yourself in Havana for New Year's Eve! Up in the north of the Caribbean and home to over 2 million Cubans you're sure to have an amazing trip! With a rich, controversial background, Cuba is now one of the most popular destinations in the Caribbean.

Of course you have the gorgeous beach Playas del Este to wile away the hours, but there are a lot of activities for those looking for a more cultural and active holiday. This includes Havana's National Museum of Fine Arts, street fiestas, visiting Old Havana and walking along the Malecón or visiting La Cabana fortress, don't forget to pass by El Capitolio!

Classis car enthusiasts, this will be heaven for you, with many Old Car Tours available you could be cruising around in a Buick Special or Invicta, a cheeky Chevrolet Deluxe, Ford Fairlanes, Thunderbirds, Oldsmobiles - it would be hard to pick one in particular!

So, Beaches - check, Art - check, Classic Cars - check... pack your bags and get going!
Things to do
Cubans are more low key at New Year, many choose to stay at home with family and friends and have their parties indoors!

One of the popular spots for New Years Eve is Cathedral Square (Plaza de la Catedral) where locals and tourists alike gather (you'll need to get a ticket first though but includes dinner, entertainment etc).
Or looking more down to earth then visit the restaurants in the old town, many of which have New Years Eve deals on and then you can check out the fireworks at Havana Bay!

If you are out an about on New Years Eve, be mindful that it is a tradition to throw a bucket of water out the window - careful, you're not underneath!!

Like everywhere these days, the bars, restaurants and clubs will have special New Year menus and events, but it is always better to book in advance so you're not left disappointed.

Some restaurants you might want to put on your to visit list:

Habana 61
El Litoral
San Cristobal Paladar
Dona Eutimia
El Del Frente
NYE Live Streaming, Webcams
So at the moment, from what I can see, there are no live webcams in the Havana area, as soon as this changes, I'll update the page! If you know differently, please get in touch, it seems likely there may be more coverage becomes available in a post Castro Cuba.
New Years Eve Hotels
Christmas and New Year is a very busy time, so it's highly recommended that you get your accommodation booked in advance. There are some spectacular hotels to stay in, here are just a few:

Iberostar Parque Central
NH Capri La Habana
Melia Habana
H10 Habana Panorama
Hotel Santa Isabel
You can search for deals at all of these venues, plus other local hotels here.
Latest NYE News
The content on this page is written and maintained by Yvonne Kerrigan. If you have found it useful then please feel free to share it with your friends and family. If you have any comments or events to add to this page please Contact us.