Hartford New Years Eve 2019
Fireworks, Events, Parties, Hotels, Restaurants, Concerts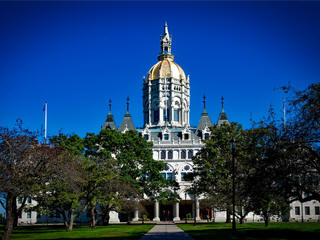 First Night in Hartford is another long running new year's eve celebration embracing the family friendly, alcohol free firsrt night tradition that started in Boston way back in 1976 and has spread around the country ever since, being especially popular in the north-eastern states.
Hartford, the state capital of Connecticut is well worth a visit at any time of year, so if you are heading here over the festive and new year period be sure to check out some of the city's main attractions such as Mark Twain's house, the Harriet Beecher Stowe house, Wadsworth Atheneum and Elizabeth Park.
Things to do
The First Night event in Hartford last new year was actually in doubt right up until the last minute, but in the end did take place as planned, so we're optimistic they'll be back again as usual to welcoem new year 2019.
The event typically gets underway at 2pm on new year's eve and if you're planning to attend you will need to purchase a ticket (also known variously as a button or a wristband). They only cost $12 for adults and $3 for ages 3-15, with younger kids free, You can buy yours online here.
The First Night event itself includes a wide range of entertainment at a variety of stages and venues throughout the day, including, live music, children's show, a wide range of food and drink and ice skating. the full entertainment schedule is also available online, check out performances and venues here.
The highlight of the event is of course the fireworks, and the Hartford celebration actually offers 2 seperate displays, an earlier show at 6pm fof the families with younger kids then the main display at midnight. Both take place in Bushnell Park.
For your new year dining options, Hartford has plenty on offer too, with a wide range of restaurants offering the whole gamut of cuisines. Top recommended places include Salute, The Capital Grille, Bear's Smokehouse and Max Downtown. Vegans are superebly catered for by Fire and Spice vegan restaurant. See the full range of options here.
NNYE Live Streaming, Webcams
There's a pretty decent webcam view overlooking the State Capitol and Bushnell Park, where you should be able to chekc out the new year fireworks over the city:
New Years Eve Hotels
There ar eplenty of hotels to choose from for new year in Hartford. Some of the best located for First Night events are the Radisson Hartford, Homewood Suites by Hilton Hartford Downtown and the Residence Inn Hartford Downtown.
You can search for deals at all of these venues, plus other local hotels here.
Latest NYE News
The content on this page is written and maintained by Martin Kerrigan. If you have any comments or events to add to this page please Contact us.