Hamburg New Years Eve 2019
Fireworks, Events, Parties, Hotels, Restaurants, Concerts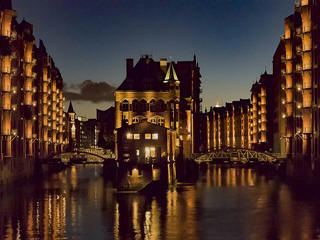 Hamburg over new year's eve offers a wide range of diversions to the visitor, from spectacular fireworks displays over the river Elbe to a wide range of parties in the city's many bars, restaurants and nightclubs and of course the colourful and atmospheric Christmas markets.
The second largest city in Germany, smaller only than Berlin, Hamburg prides itself on being a welcoming yet laid back destination, with many bridges, canals and churches creating a unique cityscape that's well worth exploring at any time of year,
Things to do
Like most German cities, Hamburg likes to welcome the new year with spectacular fireworks, and with the setting of the river Elbe takes full advantage of it's position to create displays that can be viewed from a wide range of locations.
The biggest and loudest display takes place on the harbour at the Landungsbrucken area, where the famous St. Pauli Piers are located. The fireworks here are accompanied by the sound of the signal horns of the ships docked in the harbour, creating a unique soundtrack to the display.
If you prefer a little less hectic surroundings there is also a fireworks display over the Alster, which can be viewed from the Jungfernstieg promenade, which has the advantage of added live music and street market stalls, with one of the biggest Christmas markets also located here.
For the best viewing areas for the new year fireworks all across the city, there is an excellent map provided here:
Away from the fireworks, or possible as somewhere to kill some time before or afterwards, Hamburg has an amazing range of nightlife, with bars, clubs and restaurants all around the city. Top recommended venues include Fleetenkieker Irish bar, Brachmanns Galeron, Zur Ritze and Amanda66 - see the full range of nightlife options here.
NYE Live Streaming, Webcams
There are some excellent live streaming webcam views in Hamburg, allowing you to check out the city at any time, including at the Rathausmarkt and over the harbour, and in particular some skyline cam views that will afford a front row seat of the new year's eve fireworks:
New Years Eve Hotels
There is no shortage of places to stay in Hamburg, with a wide range or Airbnb options added to the city's many hotel establishments.
You can search for deals at all of the best Hamburg local hotels here.
Latest NYE News
The content on this page is written and maintained by Martin Kerrigan. If you have any comments or events to add to this page please Contact us.