Guatemala New Years Eve 2019
Fireworks, Events, Parties, Hotels, Restaurants, Concerts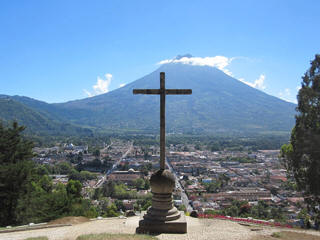 Explorers will love spending New Year in Antigua, Guatemala, purely for the volcanoes that surround the city including Acatenango and Pacaya, the latter still being so you can see it smoking and spitting rocks and lava. There are many tours and day trips available to take in the local scenery and makes for a great adventure.

Coffee connoisseurs will want to sample some local blends from one of the many surrounding plantations or perhaps chocolate is more your thing, if so make your way to Choco Museo for the Cacao and Chocolate Muesum, they also hold some fantastic workshops, perfect for the choc-a-holics among us!

If you love to get out there and get in with the hustle and bustle of markets then peruse some Mayan fare at the craft markets, seek out the Main market for fresh foods, sweets, souvenirs and a variety of traditional fare, located on 4th Street Poniente and right next to it you will find the Craft Market.

Photographer lovers will no doubt seek out some of the iconic shots from Antigua, including the Arco Santa Catalina and perhaps the Fuente de Las Sirenas in Parque Central or take yourself off up to the Cerro de la Cruz for some epic views over Antigua and the volcanoes.

There are many churches and other buildings to explore, including Iglesia de La Merced, Convento Santa Clara, Cathedral de Santiago, Palacio de los Capitanes Generales and Casa Santo Domingo. That should keep you going for quite a while!
Things to do
If you are in Guatemala for New Years Eve then you might want to make a beeline for Antigua as many people make there way to Calle del Arco (Santa Catalina Arch) where you will find music, entertainment and great carnival style parades and performances from around 4pm throughout the evening until the fireworks display at midnight.

If you want something a little less crowded then head over to Parque Central (Central Park) where it's a bit quieter and you can crack open your bottle of champers at midnight while watching the fireworks along with locals and tourists who have gathered with family and friends to celebrate the new year.

Enjoy some delicious traditional Guatemalan fare at one of Antigua's many restaurants, book your table in advance, especially at some of the more popular eateries:

Restaurante Casa Santo Domingo
Meson Panza Verde
Samsara
El Tenedor del cerro
Los Tres Tiempos
NYE Live Streaming, Webcams
No live webcams of use, but we'll keep checking for live streams.
New Years Eve Hotels
If you are staying in Antigua, Gautemala for New Years Eve, make your reservations in advance to ensure you have the accommodation you want:

The San Rafael Hotel
Porta Hotel Antigua
Hotel Cirilo
El Convento Boutique Hotel
Meson Panza Verde
You can search for deals at all of these venues, plus other local hotels here.
Latest NYE News
The content on this page is written and maintained by Yvonne Kerrigan. If you have any comments or events to add to this page please Contact us.