Grand Cayman New Years Eve 2019
Fireworks, Events, Parties, Hotels, Restaurants, Concerts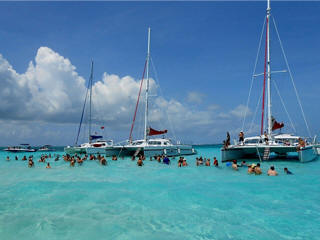 Should you be looking for things to do in the Cayman Islands for New Years Eve, then make Grand Cayman your port of call. With stunning beaches, historical sites and museums and some great shopping, it's the perfect place to kick back and enjoy welcoming in the new year.

Grab your sun screen and head to Seven Mile Beach, enjoy a cocktail or two as you relax in this gorgeous place and just let the stresses of every day life ease away. Take a stroll along the soft white sand, dotted with palm trees and let the turquoise blue sea just wash away any tensions you might have!

Water babies will love the diving and snorkelling in Grand Cayman with lots of incredible dive sites including wrecks and caves. With fantastic visibility the reefs and marine life are all there to be explored! There are also the usual water sports available including kayaking, parasailing, boat charters, kite boarding and paddle boarding and you can even enjoy a submarine tour!

Spend the day in George Town, grab lunch or a drink in the picturesque harbour as you watch the boats or indulge in a spot of duty free shopping! There's also a few museums and a remnant of Fort George, harking back to the days of pirates!

If you want something quite relaxed then perhaps a trip to Camana Bay is for you. There are plenty of restaurants and shops to peruse and you might want to visit the Observation Tower and marvel at the stunning mosaics and be rewarded with some lovely panoramic views over Grand Cayman.
Things to do
New Years Eve in Grand Cayman is an incredible event, with many heading to Camana Bay for the free open air party, with live DJ, dancing and fireworks at both 8pm and midnight. This is billed as a family friendly event, so it's fun for all ages. The restaurants and waterfront bars will be packed and you can immerse yourself in the party atmosphere.

Enjoy the Barefoot Blacktie event at Calico Jack's where you can dress to the nines but kick off the shoes to feel than sand between your toes as DJ's have you partying into the new year, with great views of the fireworks. Get your tickets in advance to avoid queues on the night.

Royal Palms usually holds a big resort party with live DJs, party on the beach and champagne at midnight, it's a popular event so grab your tickets as soon as they come out.

The fireworks will light up the night all the way along 7 mile beach, so head to the waterfront and enjoy the celebrations.

The bars, restaurants and hotels tend to have special menus and events planned for New Years Eve, it's probably best to double check with venues to find out about tickets and reservations.

There are a great selection of restaurants in Grand Cayman, so you will be spoilt for choice for delicious Caribbean fare:

Kaibo - Upstairs Restaurant
VIVO
The Brasserie
Anchor & Den
Veranda
NYE Live Streaming, Webcams
Unfortunately, I can't get my hands on a decent live webcam for Grand Cayman as yet, but I'll keep checking!
New Years Eve Hotels
Book your hotel in Grand Cayman for New Years Eve as soon as you can, popular resorts will fill up quickly, so make your reservations to avoid disappointment :

Caribbean Club
Turtle Nest Inn
Kimpton Seafire Resort + Spa
The Ritz-Carlton, Grand Cayman
Sunset House
You can search for deals at all of these venues, plus other local hotels here.
Latest NYE News
The content on this page is written and maintained by Yvonne Kerrigan. If you have any comments or events to add to this page please Contact us.