Gatlinburg New Years Eve 2019
Fireworks, Ball Drop, Events, Hotels, Restaurants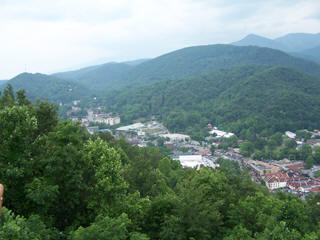 Gatlinburg in Tennessee hosts one of the most enduring new year's eve celebrations in this part of the United States, with a ball drop and fireworks display from the city's iconic Space Needle that has been taking place each year since 1987.
Gatlinburg is only a small town, probably best known as the gateway to the nearby Great Smoky Mountains National Park, but it's population increases several times over when an estimated 50,000 visitors hit the town for the new year's eve party, drawn also by the Ober Gatlinburg amusement park and ski resort, a very popular attraction in the area.
Space Needle Ball Drop
The big party is of course the Gatlinburg Space Needle ball drop and new year fireworks display, which take place at the base of the iconic monument, located at the intersection of Parkway and Historic Nature Trail.
There is entertainment throughout the evening leading up to midnight, with free live music performances in the area around the Gatlinburg Convention Center.
Fireworks
The fireworks display starts on the stroke of midnight, and is choregraphed with a special musical score, while LED lights mounted on the Space Needle add to the visual effect, a genuinely dramatic sight to welcome the new year.
Restaurants
For dining options to fuel yourself up before the midnight party there are plenty of choices in Gatlinburg. Popular restaurants that host special new year dinners include Crystelle Creek, The Lodge at Buckberry Creek, Kennedy Concepts of Restaurants and Three Jimmys.
You can find the full range of Gatlinburg restaurants, including online menus and reservation details, here.
NYE Live Streaming, Webcams
There are actually quite a few live webcam views for such a small town - the presence of a nearby ski resorts always helps as people are keen to check out the snow conditions. There is even a webcam located right on top of the Space Needle!
Check out all the live Gatlinburg webcam views here:
New Years Eve Hotels
Accommodation in Gatlinburg is very much at a premium at this time of of year so it's very much recommended to book well in advance. Top rated places to stay include the Quality Inn Creekside Hotel, The Doubletree Hilton Park Vista (try to request a city view room!) or, if you're on a bit of a budget, the Riverside Motor Lodge.
You can search for deals at all of these venues, plus other local hotels here.
Latest NYE News
The content on this page is written and maintained by Martin Kerrigan. If you have any comments or events to add to this page please Contact us.