Frankfurt New Years Eve 2019
Fireworks, Events, Parties, Hotels, Restaurants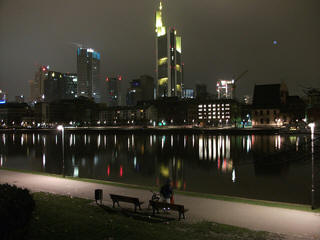 Frankfurt is a German city that takes holding a party very seriously, and New Years Eve (called Sylvester in Germany) is absolutely no exception. With an setting on the banks of the River Main, the residents of Frankfurt light up the skies with dramatic fireworks as the midnight countdown reaches it's conclusion, while around the city an eclectic mix of bars, restaurants and hotels host a range of parties that really does provide something for everyone.
If you're spending some time in Frankfurt over the Christmas and new year period then there's plenty of excellent attractions to help fill your time. In particular I recommend checking out Frankfurt Cathedral, Goethe House, the Gruneburgpark and the Historical Museum. Most of the central areas are easily accessible on foot, so walking is often the best way to get around, and you'll find some lovely scenery along the bank of the river Main.
Things to do
The fireworks are mainly centred on the River Main, so your priority is in finding an exceptional vantage point to get the best view of the pyrotechnics. Recommended spots to try include the Old Opera House, locally signed as Alte Oper, the bridges of the Main River such as the Eiserner Steg and the pedestrianised Eisenbrucke iron bridge, and also at the Romerberg Marketplace. Pretty much anywhere on the south bank of the river will provide a decent view.
Frankfurt is also famous for it's New Year concert, so if you're up to it on the day after the big party, try to get yourself down to Frankfurt's Alte Oper for the Junge Deutsche Philharmonie performing festive classics.
Another option is to consider a river cruise - many boats ply their trade on the River Main, with traditional and popular routes taking in visits to riverside towns such as Speyer, Strassburg, Breisach, Basel, Mainz and of course Frankfurt, so if you managed to time your trip correctly you could actually secure the ultimate view of the fireworks from the river itself!
if you're in town over the festive season then it would be remiss not to recommend a trip to the famous Frankfurt Christmas market, which many people make the journey here just to visit. Located at Romerberg, Paulsplatz and Main Quay the market offers a great range of traditional artifacts and seasonal food and drink.
if you're considering your new year's eve dining options then you will find Frankfurt has plenty to offer, with over 1500 restaurants in the urban area, with everything from fine dining to street stalls. Top recommended options include Matsuri, Restaurant Lohninger, Dorade and Weinsinn. as with many of the larger German cities there is also a burgeoning vegetarian and vegan scene, and you can find excellent offerings at Wondergood, Chimichurri and Metropol. Choose from the full range of Frankfurt restaurants here.
NYE Live Streaming, Webcams
Places to watch live online, including a live view over the River Main
New Years Eve Hotels
Accommodation in Frankfurt is plentiful, very high quality and reasonably priced. For a full range, availability checker and online reservation service, visit local hotels here.
Latest NYE News
The content on this page is written and maintained by Martin Kerrigan. If you have found it useful then please feel free to share it with your friends and family. If you have any comments or events to add to this page please Contact us.