Fort Lauderdale New Years Eve 2019
Fireworks, Ball Drop, Events, Parties, Hotels, Restaurants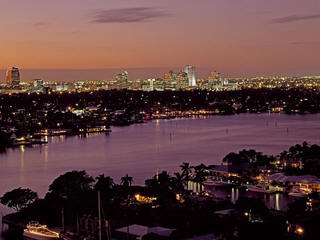 Fort Lauderdale is located in such close proximity (30 miles or so) to Miami, where there are a huge number of big new year's eve parties, that you probably wouldn't expect a new year event on any real scale to be taking place here, but you would be very much mistaken, with the Fort Lauderdale Orange Bowl Downtown Countdown attracting an estimated 100,000 people out onto the streets to see in the new year.
The Fort Lauderdale new year party is a street festival that takes over the downtown area, filling the streets with locals and visitors alike. if you see what's to offer on this apge and still fancy making the trip down to Miami though, especially with Pitbull's New Year Revolution taking place again, please visit our Miami page for full details on the events and parties taking place there this year.
Things to do
The City of Fort Lauderdale Orange Bowl Downtown Countdown retains it's name and location this year despite the fact the Orange Bowl itself actually takes place on the 30th December, and watching this on a big screen was always a key part of the evening. Get all the latest here on the Orange Bowl.
The Fort Lauderdale new year event gets underway at 3.30pm and includes a large street festival, occupying the downtown area along SW 2nd Street between SW 2nd and 5th Avenues. There will be a range of family activities throughout the afternoon, with the main entertainment then taking place from 8pm - 1am.
The event has featured different highlights over the years, including a traditional ball drop, but last year saw the debut of an illuminated giant anchor drop instead, and this looks set to return for new year 2019. The anchor weeghs 700 pounds, is lit by over 12000 LED lights and measures in at 20 feet high and 17 feet wide! It will decend at midnight from 100 feet above the main stage.
There is also an earlier kids countdown at 7pm, also at the main stage and featuring the lighting of the anchor. You can see the full lineup and list of events at the Downtown Countdown here.
Elsewhere, there is plenty going on in the bars, clubs and restaurants of Fort Lauderdale. Venues to look out for with special new year events include:
Karu Fort Lauderdale
Blondie's Sports Bar
The Deck Restaurant
Elbo Room
Lulu's Bait Shack
McSorley's Beach Pub
We recommend contacting the venues directly for full details and to make your reservations as required.
Ot if you like the idea of seeing in the new year on the water, with live entertainment as well as fabulous coastal views, check out the cruises on offer from Jungle Queen Riverboats here.
NYE Live Streaming, Webcams
There are some great live streaming webcam views in Fort Lauderdale, enabling you to check in live on the new year parties, and hopefully get a look at some fireworks:
New Years Eve Hotels
There is no shortage of hotel accommodation in Fort Lauderdale, this is a year round holiday destination so there is a huge range of choice. Top recommended places to stay include the Hilton Fort Lauderdale Beach Resort, Premiere Hotel, Hyatt Regency Pier 66 and The Westin Beach Resort.
You can search for deals at all of these venues, plus other local hotels here.
Latest NYE News
The content on this page is written and maintained by Martin Kerrigan. If you have any comments or events to add to this page please Contact us.