Florence New Year's Eve 2019
Fireworks, Events, Parties, Hotels, Restaurants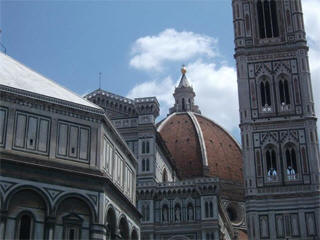 Florence celebrates new year's eve with music, fine dining and fireworks, a selection of top parties and events that caters to all tastes.
The new year celebrations are characeterised by public gatherings and street parties, with large crowds taking to the streets to enoy the entertainment and just soak up the atmosphere in this fabulous and beautiful Renaissance city.
The Big Concert in Piazzale Michelangelo
There will be a special new year's eve show in Florence this year, with a live new year's eve concert in Piazzale Michelangelo, where you can enjoy Il Concertone with live music and local bands accompanied with stunning panormaic views across the city.
Piazza del Carmine Jazz Music
There will also be live music and a lively and popular street party in Piazza del Carmine in the Oltrarno district, where the whole piazza is turned into one big music hall filled with jazz musicians. playing their way into the new year.
There isn't an official municipal fireworks display as such, but many of the larger hotels and restaurants will set off their own displays, frequently from their roof gardens which makes for a very dramatically lit skyline come midnight!
Fireworks
Top viewing points to make sure you get the very best views would be the square in front of the Duomo, the Ponte Vecchio bridge (if you can get there early enough - it will be packed) or anywhere along the banks of the Arno River that cuts right through the heart of the city.
If you're prepared to go a little further out you'll easily find some more secluded spots in the hills overlooking the city, where the panoramic view of the pyrotechnics over the city skyline is truly a sight to behold.
Bars & Clubs
For a more lively crowd the nightlife scene in Florence is especially hectic on New Years Eve - top venues to look out for (be sure to book tickets well in advance!) are Full Up, Space Electronic, Twice Club Firenze, Club Montecarla, Tabasco Disco Bar and the famous Lochness Club.
Medieval Festival
This is an event that appeals to me hugely on a personal level, as the medieval history of Florence and the surrounding areas of Tuscany is something I find truly fascinating.
The nearby small town of Bagno di Ripoli holds their annual medieval festival on new year's eve at the Antico Spedale del Bigallo, where there is a masked ball and medieval style gala banquet.
New Year's Eve Hotels
Florence has some of the best hotels anywhere in the world, and is actually fairly reasonably priced compared to Rome, another city that attracts large number of visitors over the Christmas and new year period.
Florence is a very walkable city, so we advise you to find accommodation near the river and not too far from the Ponte Vecchio and you'll be able to reach most popular sites comfortably on foot.
You can check out the huge selection of local hotels here.
Christmas Markets
If you are in Florence for the festive season then it is also an excellent opportunity to check out some of the increasingly popular Christmas markets. There are several around the city, including in the piazza in front of the Duomo and, along with the Christmas lights and nativity scenes, really add to the holiday atmosphere in this fine city.
New Year Dining
Top restaurants to consider for your New Years Eve dining experience include La Giostra, Cantinetta Antinori, Borgo San Jacopo, Giubbe Rosse, Trattoria Mario, Grand Minerva, Il Cantuccio Di San Lorenzo, Il Ritrovino dei Servi, Vini e Vecchi Sapori, Triangolo delle Bermuda, Enoteca Pitti Gola e Cantina, Brown Sugar and Le Volpi E L'Uva.
You can check out the full range of Florence restaurants, along with plenty of customer reviews to aid you in making the best choice here.
NYE Live Streaming, Webcams
Places to watch live online:
Latest NYE News
The content on this page is written and maintained by Martin Kerrigan. If you have found it useful then please feel free to share it with your friends and family. If you have any comments or events to add to this page please Contact us.