Fiji New Years Eve 2019
Fireworks, luxury hotels and live music to greet the new year in Fiji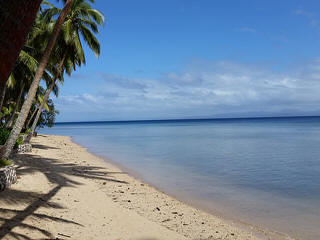 Fiji is a very popular new year's eve destination for those who like some sunshine and beaches to help unwind over the festive season, with large numbers of tourists visiting from Australia in particular to see in the new year in some of the top level local hotels.

Fiji is actually an island nation on in excess of 300 islands, but the majority of the population and tourist activity is centred on the 2 largest islands, Viti Levu and Vanua Levu, the latter of which has the port of Suva as a central point of commerce that delivers large numbers of cruise ship visitors.
Nadi is also a popular tourist destination, with some of the best beaches in the area. Less populated islands that still attract decent tourist numbers, usually those looking for a quieter break are Denarau Island, and the Mamanuca Islands.

One note of caution to sound is that December and January are very much peak tropical cyclone (the local name for hurricanes) season so there is always a chance that your new year celebrations are going to be curtailed in a really quite abrupt way – I wouldn't let this put you off booking altogether as the odds are still in your favour, but certainly make sure your travel insurance is up to scratch before your visit.
Things to do
New year's eve celebrations in Fiji vary quite markedly in different locations. In the more tourist oriented areas the top parties tend to be centred on the top end luxury hotels, who throw their own parties for guests and visitors alike.

Top hotels to check out for the new year festivities include:

- The Sheraton Fiji Resort – 6 different restaurants offering special new year menus

- Beachcomber Island Resort – a resort on the Mamanuca Islands popular with the backpacker crowd, a lively new year party guaranteed

- Shangri-La's Fijian Resort & Spa on Yanuca Island – a large resort very popular with Australian visitors, offers fireworks for guests only on new year's eve

- InterContinental Fiji Golf Resort & Spa – several top restaurants to choose from, with special menus, festive activities and live music and champagne to see in the new year

- Naitivi Resort on Viti Levu – new year festivities include a buffet dinner on the beach and fireworks at midnight

If you prefer to party with the locals then in Nadi Town and Suva city you will find street parties that continue through until the early hours on new year's day, with dancing on the beaches, music, beach bonfires and fireworks.
NYE Live Streaming, Webcams
Places to watch live online: There are a few live webcam views from Fiji if you want to check out the weather and activites over the new year period:
New Years Eve Hotels
See above for the top recommended new year hotels in Fiji, although they are just a few of a very wide selection to suit most budgets.
To check availability and make reservations at these featured locations, and all the top hotels in the area, you can make online bookings here.
Latest NYE News