Edmonton New Year's Eve 2019
Top Fireworks, Events, Parties, Hotels & Restaurants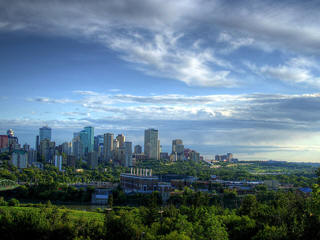 Edmonton is another Canadian city that knows how to throw a really good party on new year's eve, with the harsh northern winter adding a chilly temperature and snowy landscape that always makes things feel just that little bit more festive and seasonal. The new year party will be extra special this year as it wraps up the 150th Anniversary celebrations.
With a pleasant setting on the banks of the North Saskatchewan River Edmonton has a reputation for being a fun and friendly place to visit at any time of year, and attractions worth checking out if you are going to be spending some time here include the Royal Alberta Museum, Fort Edmonton Park, Telus World of Science and the stylish and unusual Art Gallery of Alberta.
Things to do
Edmonton is still fortunate enough to have a large publically funded new year's eve party to provide a focal point for the city's celebrations, and here the popular New Year's Eve Downtown Festival & Fireworks takes place ain and around Churchill Square and attracts a large crowds of locals and visitors.
This is primarily a family friendly event, and unlike many of the equivalent parties in the USA where tickets or buttons are required to help with the costs, as we head towards 2019 this remains completely free to attend.
There are activities inside the Federal Building from 6-9pm, with outdoor celebrations on the Plaza including live entertainers, music, comedians, ice-carving, fire pits and plenty more.
The climax of the Edmonton new year party is the spectacular fireworks display, which this year takes place at 9pm to fit in with the family friendly feel of the event. The best spots to head for to watch the fireworks are Federal Plaza and in front of the Alberta Legislature.
Another popular event that is a highlight on the social calendar is the Edmonton International NYE Gala, held at the Beverly Hills Ballroom of the Fantasyland Hotel at the large and sprawling West Edmonton Mall. This is a black tie event and includes cocktails, fine dining dinner, dancing and live entertainment. This is always a hugely popular party so get your tickets quickly - they're available online here.
Elsewhere the bars, hotels and nightclubs of Edmonton throw a wide range of special events to mark the occasion, competing with each other to greet the new year in the most spectacular style possible
For your new year dining options then Edmonton will not disappoint either, with a wide range of local and international cuisines represented in a range of restaurants that will cater to most budgets.
The most popular venues include Normands Restaurant, Pampa Brazilian Steakhouse, Tres Carnales Taqueria and La Ronde Revolving Restaurant, which has the added benefit of spectacular skyline views, always a bonus when there's fireworks going off! If you're looking for a vegan option then we really like the look of the fantastically named Noorish Conscious Eatery and Superfood Elixir Bar! Check out the full range of Edmonton eateries here.
NYE Live Streaming, Webcams
Places to watch live online - if you can't be at the new year party in person then the next best thing is to try watch it online, and in Edmonton you're fortunate to have a good range of live streaming webcams to choose from, including several with excellent skyline views, perfect for checking out the fireworks come midnight:
New Years Eve Hotels
If you're planning on visiting Edmonton or the surrounding areas over the New Year period you won't have too many problems finding suitable accommodation, although as always over the festive period it makes sense to book your room as early as possible.
You can search, check availability and book local hotels here.
Latest NYE News
The content on this page is written and maintained by Martin Kerrigan. If you have found it useful then please feel free to share it with your friends and family. If you have any comments or events to add to this page please Contact us.