Disneyland New Year's Eve 2019
Fireworks, Events, Parties, Hotels, Restaurants, Concerts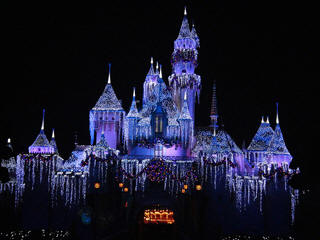 The original Disneyland resort is a great place to spend new year's eve, especially (well, really only if we're honest!) if you have children young enough to enjoy the magic. You can expect to see the full range of popular characters and the California weather is generally pretty accommodating even at this late time of year.
We recommend you get your reservations made early if you do want to see in the new year in Disneyland as the place books up solid pretty quickly, although there is often a decent range of early-bird offers that can save you a fairly substantial amount for committing yourself earlier in the year.
Things to do
Fireworks and Disneyland go pretty much hand in hand so you don't need to wait until midnight on New Year's Eve to see some spectacular pyrotechnics here, as there are big fireworks shows throughout the year, although it is fair to day they pull out all the stops for the big holidays so if you're there on the 4th July or for new years then you can expect to be rewarded with an especially brilliant display - the Sleeping Beauty Castle provides a particularly impressive backdrop for the official "Ring in the New Year" display.
Local restrictions do mean that fireworks usually have to be completed by 10pm, but there is an exception granted on NYE so you will see a big display at midnight, although for those with younger kids there are earlier displays too, usually at 5pm and around 8.45pm.
The best recommended viewing points from seasoned Disneyland fireworks viewers are:
- At the Sleeping Beauty castle
- On Main Street, USA
- The Rivers of America in Frontierland
- At the It's a Small World boat ride
Or failing that make sure you get yourself a room with a view when booking your hotel - those with the best views include Disneyland Hotel's Adventure Tower and the Grand Californian, although be sure to specify your requirements when making your reservation.
If you're looking for new year dining options in the Disneyland resort then you're likely to be astonished by the choice, they have an incredible range of eateries on site to choose from, with most cuisines catered for. You will of course be subject to the usual theme park premium when it comes to the prices, but if you've chosen to spend your new year's eve here then that's unlikely to take you by surprise. Browse the full range of Disneyland restaurants here.
NYE Live Streaming, Webcams
Places to watch live online - there are several live streaming webcams sited at Disneyland that can give you a view of events as the day unfolds, and hopefully catch the fireworks too:
New Years Eve Hotels
If you're planning on visiting Disneyland for New Years there will be plenty of offers to entice you, but early reservation is strongly recommended. You can search, check availability and book local hotels here.
Latest NYE News
The content on this page is written and maintained by Martin Kerrigan. If you have found it useful then please feel free to share it with your friends and family. If you have any comments or events to add to this page please Contact us.