Darwin New Years Eve 2018
Fireworks, Events, Parties, Hotels, Restaurants
Darwin, Northern Territory, 31 December 2017, Midnight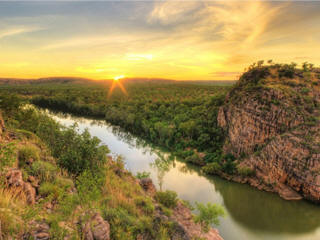 Although it may be the wet season, New Years Eve in Darwin is still a bit of a change for many of us who are used to wrapping up in 20 layers before venturing outside! So if you are in Darwin for NYE then ditch the winter coats and grab your flip flops and quite possible your brolly!

Way up in the Northern territory of Australia this is a popular holiday destination and a great base for people looking to explore some of the surrounding National parks, including the stunning Kakadu National Park where you can explore prehistoric sites, Aboriginal rock paintings, cascading waterfalls, wildlife and breathtaking views. Just watch out for the crocs (and I'm not talking about the plastic ones you wear on your feet!).

You could also venture to Katherine Gorge in Nitmiluk National Park, again, with spectacular scenery and a photographers dream come true, consider climbing on board one of the Katherine Gorge cruises if you fancy it.

Darwin is a great location for those who love the outdoors, jump on an airboat and see rainforests, wetlands and nature up close, take one of the Aboriginal Cultural tours to gain an insight into the Aboriginal history.
New Year Fireworks, Events, Parties
Darwin hosts a fantastic free New Years Eve event at Darwin Waterfront. There's a free concert and 2 fireworks showings, one at 9pm and one at midnight, so this is great for all the family to enjoy.

As a lot of the action is near the water, you might want to think of a New Years Eve cruise on a luxury yacht, you can party under the stars and have the perfect viewing platform for the fireworks.

If you want something a little more low key then grab your champagne and a picnic blanket and find yourself a spot near the waterfront, enjoy the warm weather and wait for the fireworks to start.

The hotels and clubs in Darwin have some great events planned every year, many with live Djs and firework displays of their own. If you're in and around the wharf area, there will be plenty to choose from, just make sure you have your tickets or reservations made in plenty of time.

Darwin has some wonderful restaurants to dine in, as with anywhere, it would be best to make your reservations in advance to get the restaurant of your choice for New Years Eve:

Pee Wee's At The Point
Hanuman Restaurant
The Pearl
Wharf One Food & Wine
Char
NYE Live Streaming, Webcams
I can't find any live webcams at the moment, but I'll keep looking.
New Years Eve Hotels
Staying in Darwin for New Years Eve, then book up in plenty of time to get the hotel you want:

Darwin Central Hotel
Vibe Hotel Darwin Waterfront
Travelodge Mirambeena Resort Darwin
Skycity Darwin
Hilton Darwin
You can search for deals at all of these venues, plus other local hotels here.
Popular Pages
The content on this page is written and maintained by Yvonne Kerrigan. If you have any comments or events to add to this page please Contact us.