Colorado Springs New Years Eve 2019
Fireworks, Events, Parties, Hotels, Restaurants, Concerts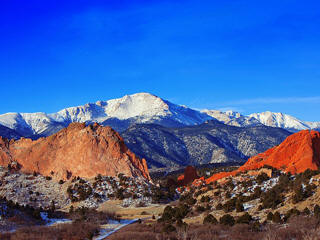 Colorado Springs is one of the biggest and most populated towns in the state of Colorado, and while on new year's eve many residents head the 60 miles or so to the major new year parties in the nearby state capital of Denver, there is still plenty going on in Colorado Springs itself.
The city is located on the edge of the famous Rocky Mountains, and most local attractions and activities reflect the area's mountainous heritage, with top attractions including Pikes Peak, the Garden of the Gods park, Seven Falls park and waterfalls and the Rock Ledge Ranch Historic Center, so if you are here over the new year period there is plenty to see or do.
If you do still decide to give Colorado Springs' new years offerings a swerve and make the trip to Denver anyway, you can check out the new year's eve action there on our Denver page.
Things to do
There are fireworks to be seen from Colorado Springs on new year's eve, but only on a very small scale! It is a local tradition for the Pikes Peak AdAmAn Club to climb to the summit of Pikes Peak on new year's eve and set off some fireworks on the stroke of midnight.
This obviously isn't the biggest display, but can be viewed for many miles around, so if you're in Colorado Springs remember to make sure you have a view of Pikes Peak (and hope it isn't too cloudy) and look out to the west come midnight!
If you're looking for a special new year party then few are better than the New Year's Eve Gala at Glen Eyrie Castle, where there will be dinner, live music and dancing in the castle's fabulous Great Hall. Reserve your place for this event here.
Elsewhere, The Broadmoor Resort also holds a special new year party, their New Year's Eve Gala is a black tie event that includes dinner and dancing with live music provided by The Broadmoor Pops Orchestra no less, while they also hold a less formal New Year's Eve Bash aimed at a younger crowd, with a buffet style food and live music followed by a DJ. Get more details and tickets for both events here.
One option you might like to consider if you're feeling esepcially adventurous this new year's eve is to take a New Year's Fireworks Flight by helicopter, guaranteeing you an unobstructed view of the Pikes Peak firewoks, as well as a holiday lights tour of the surrounding area. Tickets are available here.
Other Colorado Springs new year events worth checking out include the Colorado Springs Philharmonic New Year's Eve Bash at the Pikes Peak Center and new year dinner on the Royal Gorge Route railroad.
NYE Live Streaming, Webcams
There are some excellent live webcam views in Colorado Springs if you fancy trying to see some new year fireworks, Pikes Peak is one of the views available:
New Years Eve Hotels
There are some fabulous hotels to choose from in Colorado Springs. Most popular places include the Garden of the Gods Resort, the Hyatt House and the Staybridge Suites.
You can search for deals at all of these venues, plus other local hotels here.
Latest NYE News
The content on this page is written and maintained by Martin Kerrigan. If you have any comments or events to add to this page please Contact us.