Charlotte New Year's Eve 2019
Guide to new year's eve in Charlotte for NYE 2018-2019. First Night party, fireworks, restaurants and hotels.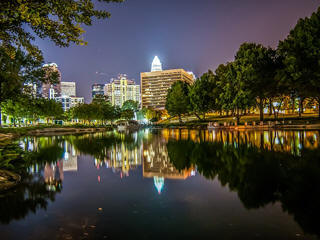 Charlotte is well known for it's fabulous First Night style CLT New Year's Eve celebration, but there are plenty of other NYE events and activities taking place in the city's many top bars, hotels and restaurants to help you see in the new year in style.
CLT New Year's Eve
The focus in Charlotte at New Years is on family friendly entertainment, and this is epitomised by the CLT New Year's Eve event, Presented by Ally! which replaces the previous First Night event and acts at the city's official NYE event. This remains an alcohol free event.
Held in Romare Bearden park on South Church Street this event features Crown Town (a chance for revelers of all ages to decorate a crown to wear as we prepare to ring in the new year), food vendors, food trucks, a DJ, a live band, the lighting of the Queen City crown, and a huge CLT NYE fireworks display starting at midnight.
The event is preceded by First Night Charlotte for Kids, which runs from 1-6pm and is aimed at those with younger families who don't want to stay out for the later event. The main party then gets underway with the live DJ from 8pm.
Public parking is available at surface lots and parking decks throughout Uptown Charlotte at market rates. Mass transit options, including the Lynx Blue Line, Lynx Gold Line streetcar and CATS buses will be available as well.
Howl at the Moon Charlotte
Away from the main event, many of the city's hotels, bars and restaurants hold their own events, and there's plenty to choose from but make sure you get your reservation in early as all the top events WILL sell out. Full listings for this year's top parties to follow.
There is also a serious New Years Eve party at the Westin Charlotte, famous for it's holiday events - more details on this year's party to follow. The Howl at the Moon Charlotte party is also a very popular night out - get more details and tickets here.
New Year's Eve Hotels
Charlotte is well known for the quality and welcoming atmosphere of it's hotels, and with many hosting their own provate new year's eve parties you will have no shoratge fo options to choose from/
To search hotels, check availability and make online bookings, you can find all the top Charlotte hotels here.
NYE Restaurants
For your new year's eve culinary choices, either as precursor to heading off to enjoy the First Night party or just for a quiet night with family or friends then there are plenty of excellent choices in town too.
The top vegan option is the famous Luna's Living Kitchen (which I simply have to visit asap!) while Mimosa Grill, Bentley's, Alexander Michael's and The King's Kitchen are all highly recommended. Find all the best options here.
NYNYE Live Stream
The CLT New Year's Eve party from Charlotte is tradtionally broadcast live on local channel WBTV, which does also have an online streaming option so you should be able to watch live from the comfort of yuor own home if you aren't able to ge tthere in person:
Latest NYE News
The content on this page is written and maintained by Martin Kerrigan. If you have found it useful then please feel free to share it with your friends and family. If you have any comments or events to add to this page please Contact us.