Cartagena New Years Eve 2019
Fireworks, Events, Parties, Hotels, Restaurants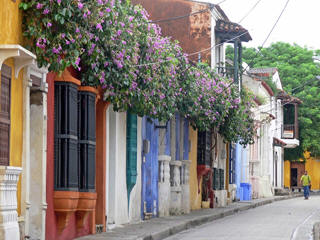 Spending New Years Eve in Cartagena? Then aren't you the lucky one! Totally showing my age here, but whenever I hear Cartagena I automatically think of Michael Douglas and Kathleen Turner in Romancing the Stone, I love that film and it's terrifying to think that it was made in 1984, eek!

But back to the present and it's time to pack your bikini for a hot Columbian festive season.

Stunning beaches and palm trees await you along with a chance to get out and explore the walled city of Cartagena, with its tumultuous history (including pirates!) and stunning architecture, there are some real lessons in history to read up on. Stroll around the streets and visit the many churches, fortress and grab a bite to eat in one of the restaurants in the city's splendid plazas and shop in the boutiques offering an array of traditional wares.

You can actually walk along the fortified city walls, even at night, which will show off the beautiful sights of Cartagena.

Take a boat trip to places like Isla Baru, with a desperately stunning beach, you can wile away the hours relaxing in this luxurious setting, grab some lunch and take some epic photographs.

Like to combine shopping with history, then take a look through the street shops of Las Bovedas, which was originally built as dungeons, then used for ammunition storage and now, of course, tourist shops!
Things to do
New Year parties take over the streets in Cartagena, so expect crowds when you are out around the city. It's a lively, vibrant atmosphere, especially around the Old City with live music and fireworks outside Cafe Del Mar, this is where you want to come for some real celebrations!

There will be thousands of people heading to Parque de la Marina, where people gather with their own chairs, blankets, cushions to settle down with their food and drinks and spend the evening with family and friends and await the fireworks at midnight.

Jump on one of the New Years Eve boat cruises to see the city light up at midnight, sip champagne and dance the night away, Caribbean style.

There's a huge NYE Street Party in Plazuela de San Diego, it's $75 a ticket though and has limited tickets left. It looks like a lot of fun and a great way to welcome in the New Year.

Many of the hotel resorts, restaurants, clubs and bars will have NYE events planned, so check with the venue for prices and tickets/reservations.

Feast on some of the city's most delightful menus, including these fabulous restaurants:

La Pescaderia Ceviches y Piqueos
Carmen Restaurant Cartagena
Restaurante 1621
Stefano's bistro
La Cocina De Pepina
NYE Live Streaming, Webcams
No current live webcams from what I can see, I shall update if any come up.
New Years Eve Hotels
Don't leave your accommodation to the last minute as the hotels book up incredibly quickly, especially in the more popular districts:

Hotel Quadrifolio
Hotel Casa San Agustin
San Pedro Hotel Spa
Sofitel Legend Santa Clara
Casa Pestagua Hotel Boutique, Spa
You can search for deals at all of these venues, plus other local hotels here.
Latest NYE News
The content on this page is written and maintained by Martin Kerrigan. If you have any comments or events to add to this page please Contact us.