Cancun New Years Eve 2019
Fireworks, Events, Parties, Hotels, Restaurants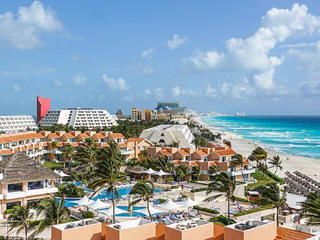 Cancun is a very popular new year's eve destination with visitors from the USA in particular, with crowds of visitors attracted by the town's reputation for an exceptionally lively nightlife, as well as some excellent 5 star resorts.

Located on the Yucatan peninsula and with white sand beaches bordering the Caribbean sea, Cancun is a great place for a relaxing break over the festive season, while also offering archaeological sites with ancient Mayan ruins for those with more cultural inclinations.
Things to do
I have been looking for information on official fireworks displays on new year's eve in Cancun and there doesn't seem to be a great deal of information out there, but there are enough pictures of fireworks over the beach and Youtube videos showing the same to convince me that they must be going on somewhere! I'm guessing the displays must be more spontaneous and informal in nature, so head down towards the beach come midnight and you should see some pyrotechnics, especially if you look out towards Isla Mujeres, where they will be holding their annual new year's eve street party based around the bars and restaurants of the Zocalo.
Back over in Cancun itself, there are a number of parties to choose from, with many of the more popular ones located in the top resorts that the town is famous for. You do tend to need to be staying at these resorts to be able to attend their parties, and be aware that they won't be cheap!

One resort with a new year event well worth looking out for is the Hideaway at The Royalton Cancun, a luxurious, adults only resort. Here there will be a grand new year buffet followed by live music and a beach party with cocktails and champagne.

The Grand Oasis Cancun, a 5 star all inclusive resort, also host their own new year party, with live music and dancing on the beach following the gala dinner.

If you're looking for a lively party to take you through the night into the early hours of new year's day then you certainly won't be disappointed in Cancun. Many visitors choose to join the Cuncrawl Club Brawl, which takes you to 3 top venues across the evening with all inclusive drinks packages and VIP area access available – tickets for this event are available online here.

There will also be big NYE 2019 parties at Mandala Cancun (including an after party at the Mandala Beach Club), Palazzo Cancun, Coco Bongo and the Dady'O Nightclub.
NYE Live Streaming, Webcams
Places to watch live online: There are several live streaming webcam views in Cancun, with locations on the beaches in particular, meaning you can check out the new year beach parties from the comfort of your own home:
New Years Eve Hotels
Along with the hotels mentioned above, most of the top hotels and resorts in Cancun will host their own new year parties, so be sure to inquire when booking to find out what is going on.
To check availability and make reservations at all the top hotels in the area, you can visit local hotels here.
Latest NYE News