Calgary New Years Eve 2019
Fireworks, Events, Parties, Hotels, Restaurants, Concerts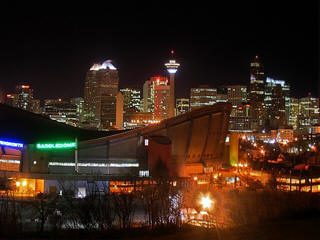 Calgary is the largest city in the vast province of Alberta and also one of the biggest cities in Canada, but thanks to it's position of splendid isolation geographically it is often overlooked by those considering potential venues to spend their new year's eve.
I have to admit it is actually this isolated location that appeals most to me - one thing very close to the top of our bucket list is a trip across the wide open spaces of Canada's remote wilderness areas, and a stop off in Calgary would very much be on the schedule. The weather at the end of December is pretty harsh though, with an average low temperature of -12 celsius and a record low of a staggering -44 so if you are planning on heading here for your new years party then please make sure you are adequately prepared!
Things to do
There is a free event to bring in the new year, taking place at Calgary's famous Olympic Plaza. The evening of entertainment gets underway at 7pm and includes entertainment for the kids in the earlier part of the evening. Part of the celebrations is the New Year's Eve Family Dance Party taking place at the city's Municipal Building from 7-9pm, including ice skating, dancing, magicians and stilt walkers to help keep the younger crowd entertained.
The public fireworks for the New Year's Eve Outdoor Celebration will again be in Olympic Plaza, accompanied by a laser, light and video show set to music, counting down to the fireworks ar midnight.
For those with families one of the most popular new year events is the annual NYE party at Calgary Zoo, where the fabulously titled Zoo Years Eve includes Zoolights light shows, fire pits and live entertainment throughout the evening. The event lasts from 6-9pm with a fireworks display at 8pm. Note that the fireworks are deliberately kept pretty low key to avoid upsetting the zoo's residents.
Out and about in Calgary the new year's eve parties for the youth of the city have a pretty wild reputation so make sure you know what you're letting yourself in for! One very popular event is the Bust Loose Party Bus & Pub Crawls NYE Party Tour, which takes in all the top nightlife venues in the city.
Elsewhere the bars and clubs of Calgary compete to throw the best party, with top events this year to include the nights at the Sheraton Cavalier Calgary Hotel, Klub OMFG and Ten Nightclub.
If all of this sounds a little too exhausting and you would rather just have a nice quiet dinner out with family and friends then the Calgary restaurant scene is sure to have something to appeal too.
French cuisine obviously features quite heavily, but all of your international options are catered for - head for places such as La Brezza Ristorante, The Himalayan, Jackie's Thai, Q Haute Cuisine or the Santorini Greek Taverna. Decent vegan options are available at Buddha's Veggie or Moti Mahal. See all the local eateries here.
NYE Live Streaming, Webcams
Places to watch live online - there are a decent range of webcams positioned around the city, including in the downtown area and some panoramic skyline views that should offer decent fireworks views:
New Years Eve Hotels
If you're planning on visiting Calgary over the New Year period, then there is plenty of choice but as always at such a busy time early reservation is recommended. You can search, check availability and book local hotels here.
Latest NYE News
The content on this page is written and maintained by Martin Kerrigan. If you have found it useful then please feel free to share it with your friends and family. If you have any comments or events to add to this page please Contact us.