Buenos Aires New Years Eve 2019
Fireworks, Events, Parties, Hotels, Restaurants, Concerts
Buenos Aires, Argentina, 31 December 2015, Midnight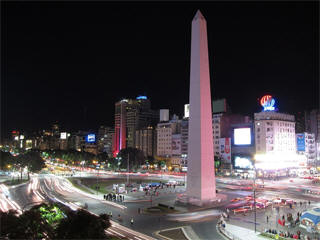 The Argentine capital is usually found on many a travellers bucket list, rich in culture, great architecture, incredibly diverse and multicultural, it's a fantastic place to visit. I've often day dreamed myself of dancing the Tango in this gorgeous location which screams romance and adventure.

For the art lovers there is the MALBA (Museo de Arte Latinoamericano de Buenos Aires) where you can view the likes of Frida Kahlo (this would be my favourite!), Jorge de la Vega, Tarsila do Amaral and Xu Solar.

Go antique shopping in San Telmo Calle Defensa, where you might just spot a fabulous bargain! The graffiti here is quite epic too. From here you are just a 20 minute walk away from the Casa Rosada, which is now a National Historical Monument. Or for the fashionistas, shop the local boutiques in Palermo Viejo.

And don't forget, dance! Can we really travel all the way to Buenos Aires and not indulge in at least one tango...I think not, pass me my rose!
Things to do
Perhaps a little more sedate than what most people are expecting for this party paradise, New Year is a very family oriented event, so many places will be closed and some of the main clubs won't open until after midnight. So it's a great opportunity to take the time to spend new years eve with family and friends.

To immerse yourself in the Buenos Aires New Year spirit, head to Puerto Madero to see the fireworks, the best viewing points are from the docks and bridges. Or you can gaze at the fireworks from the Planetarium, which is also very popular with residents, so the park will be busy, but a great atmosphere to celebrate the new year.

There is also the Palacio Barolo's Extraordinary New Year's Tour which culminates 100m above street level with gorgeous views over the city and the fireworks, all with a nice glass of champage.

If you're on a budget and just want a glass of bubbly in the comfort of your own hotel room or apartment, then you might want to venture to the rooftops, this is very popular in Buenos Aires, if you can get to a high rooftop, you can get some great views of the fireworks and then be a short trot back to your room.

An important thing to note, you might want to stay central to your accommodation, getting a bus or taxi is going to be nigh on impossible so you could be left with a long walk ahead of you, or a long wait!

Many restaurants, bars, clubs and hotels will have special New Year's Eve events, they will be expensive, so be warned, and also you will want to book well in advance so you're not left with just your mini bar and latest kindle book to bring in the new year!
NYE Live Streaming, Webcams
For somewhere so popular there appear to be no live streams, if you have one or know of one, let us know!!
New Years Eve Hotels
So many places to choose from, make sure you book well in advance for your new year stay though, rooms get snapped up pretty quick!

Alvear Palace Hotel
Miravida Soho Hotel and Wine Bar
The Glu Hotel
Mine Hotel Boutique
Alvear Art Hotel
You can search for deals at all of these venues, plus other local hotels here.
Latest NYE News
The content on this page is written and maintained by Martin Kerrigan. If you have any comments or events to add to this page please Contact us.