Budapest New Year's Eve 2019
Fireworks, Events, Webcams, Parties, Hotels, Restaurants, Concerts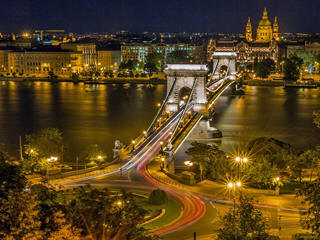 Budapest on new year's eve really does have something for everyone, with spectacular public fireworks displays, parties in some of the best hotels in Europe and of course the river Danube flowing right through the heart of the city, making river cruises a hugely popular new year option.
We have visited Budapest during the festive season, and found the atmosphere in the city to be really welcoming, with the Christmas markets and the local speciality mulled wine representing particular highlights.
I can also heartily recommend a hike to the top of Gellert Hill - it is quite a strenuous undertaking, but you will be rewarded with spectacular views across the city, certainly a spot worth condering if you're looking for a more panoramic view of the fireworks when midnight arrives.
Things to do
There are several main gathering places in Budapest on new year's eve, as the locals brave the winter weather to take their celebrations to the streets.
Although the city's many restaurants, hotels and bars host a number of great new year parties there will still be huge crowds heading outside as the clock strikes 12 to celebrate and watch the many fireworks across the city.
Many people choose to head out to the spectacular gothic style Vajdahunyad Castle at the City Park where there is a free, 3 day celebration running from 29th-31st December. There will be plenty of food and drink on offer then on new year's eve itself a family masquerade ball will be taking place.
There will also be outdoor celebrations Vorosmarty Square, Nyugati Square and on the Oktogon at the junction of the Grand Boulevard and the famous Andrassy Avenue, where people gather to greet the new year together - all of these venues will also have fireworks displays.
The hills surrounding the city offer some great vantage points if you would prefer to avoid the crowds - we've already the top of Gellert Hill for a spectacular panoramic view (you can also drive up there if the late night hike seems a little daunting!) or maybe try the Elisabeth Lookout on Janos Hill or maybe head up to the Fishermen's Bastion on Castle Hill.
For something a little different, the city's iconic Szechenyi Baths hosting their annual New Year Bath Party, a truly unique party taking place to music in the hot thermal baths. This is a very popular event and sells out quickly so be sure to book well in advance if you wish to attend - tickets are available from the venue.
If you're looking for a spectacular hotel setting then Budapest has a number of top destinations, including a number of 4 and 5 star venues, many in excellent positions along the riverside. One venue that hosts a very popular new year's eve party is the Four Seasons, where an excellent meal is accompanied by plentiful champagne and live music - secure your reservation here.
With it's location astride the mighty Danube a river cruise is a very popular new year party option, combining dinner and entertainment with some of the best fireworks views. There are options from fine dining wiht live piano music to lively dance music cruises, you can see a rang eof some of the best new year's eve cruise options here.
If you're in town over the holiday period then it's a very good idea to also take the time to check out the many Budapest Christmas Markets, located across the city with a wide range of traditional festive food and drink. One of the most popular is located on Vorosmarty ter, starts at the end of November and runs right through until December 31st and includes live shows, local produce and a great selection of gifts and arts and crafts.
If you're planning on being up and about on New Year's Day then Budapest has a long held tradition of New Year's Concerts, with several taking place across the city. One of the most prestigious is the New Year's Eve Gala Celebration in Duna Palota, with the concert preceded by a wonderful 5 course dinner in a lovely historic setting. Tickets for this event are available online here.
For dining options on new years eve and new years day then Budapest has pretty much all bases covered, with a range of eateries catering to all tastes and most budgets - top recommended venues include Trofea Grill Etterem, Onyx Restaurant and Borkonyha Wine Kitchen.
This is a city where vegans are superbly catered for too, with Napfenyes Etterem very highly thought of - see the full range of Budapest restaurants here.
New Years Eve Hotels
There is a wide range of top level hotels in Budapest, with some absolutely fabulous 5 star locations in particular, many with prime locations along the banks of the Danube.
Top recommended places to stay include the InterContinental Budapest, Aria Hotel Budapest, The Ritz-Carlton, Four Seasons Hotel Gresham Palace, Corinthia Hotel and supremely decadent Kempinski Hotel Corvinus Budapest.
The hotel apartment blocks in particular offer excellent value, and with many of them being newly built the facilities are truly top class. For a huge range of affordable apartments and hotels with an online reservation facility, check out listings for local hotels here.
NYE Live Streaming, Webcams
There isn't much in the way of live coverage of the new year celebrations in Budapest, so the best option if you would like to see the fireworks in particular is to check out some of the local webcams.
There are several located in key locations around the city, including an excellent live stream of the Chain Bridge:
Latest NYE News
The content on this page is written and maintained by Martin Kerrigan. If you have found it useful then please feel free to share it with your friends and family. If you have any comments or events to add to this page please Contact us.