Brussels New Year's Eve 2019
NYE f

ireworks,

parties,

festivals, top hotels & restaurants

in Brussels for new year 2018-2019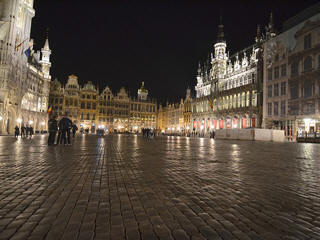 Brussels on new year's eve offers something for everyone, with family friendly entertainment and spectacular fireworks (moved to the Esplanade of the Atomium for new year 2019) coupled with some of the most iconic city centre architecture on the world and a huge range of top bars, hotels, nightclubs and restaurants.
Brussels is in particular renowned for it's new year's eve midnight fireworks display, as well as being the location for some of the most lively and vibrant dance music parties anywhere in Europe - the Belgian youth absolutely love their electronic music!
As well as the new year parties there's always loads to do in Brussels over the festive season, from the impressive and hugely popular Christmas market to the city's many tourist attractions, chief among which are the Cathedral of St. Michael and St. Gudula, the Royal Museums of Fine Arts of Belgium, the splendid Brussels Town Hall and of course the Place Royale.
Atomium Fireworks
If you're coming to Brussels on new year's eve then chances are you've been attracted by the promise of the spectacular fireworks display, and you won't be disappointed.
The fireworks are free of charge to attend and get underway on the stroke of midnight in previous years have been launched from the Mont des Arts, although this has more recently been changed to a display focussed on De Brouckere.
The fireworks were indeed moved for last new year's eve due to construction work ongoing oin the original venue. This year the big new year party in Brussels took place at the Esplanade of the Atomium instead, with fireworks launced from Palais 5 at the Heysel. Spectators will be allowed onto the Esplanade itself to watch the show.
We'll confirm as soon as possible if the fireworks venue will remain the same for new year's eve 2019.
Free public transport is provided by the city until 5.30am on new year's day to help the crowds get to and from the event.
Live Music & Festivals
Away from the main fireworks Brussels is also famous for it's new year's eve electronic music festival, which sees dance parties with 60 live acts and DJs taking place across 15 different venues, including Fuse, Catclub, Wood, Bloody Louis and Mr Wong.
The Happy Brussels Ticket is very popular for new year's eve here as it will get you into all of these venues, you can buy them from Tourist information places in Brussels, including at the Town Hall, or alternatively secure yours online here.
There is also a huge new year's eve music festival taking place in Brussels this year, as the FCKNYE Festival comes to the Palais 12 on Place de Belgique. This venue is the city's biggest concert hall and can hold a crowd of 10,000 new year revellers! Get more details of the full event lineup and buy your tickets online here.
Winter Wonders
If you're in Brussels over the festive season then we also highly recommend a trip to the city's famous Christmas market. The Winter Wonders event includes a sound and light show on the Grand Place, a ferris wheel, ice rink and traditional carousels as well as the numerous market stalls selling traditional Christmas fayre. It runs from the 28th November 2018 to the 4th January 2019. There are also Christmas markets in the city at Bourse and Place St Catherine.
Restaurants
If you're looking for somewhere to dine on new year's eve then Brussels will cater handsomely for you whatever your requirements, from simple street carts to Michelin starred fine dining. Many of the city's restaurants host special parties and offer special menus - the Hard Rock Cafe is worth checking uot for a new year party.
Top recommendations include La Maison du Cygne Restaurant, Belga Queen, Jaloa and Bonsoir Clara. See the full range of eateries online here.
New Year's Eve Hotels
Brussels' hotels are surprisingly reasonably priced for a major European capital city, but you will of course be subject to the seasonal premium if visiting over Christmas and new year, so it's always advisable to make your booking as soon as you can.
For availability and reservations you can book local hotels here.
Live Streaming webcams
If you can't make it to Brussels in person then the next best thing is to check out some of the live webcam views, of which there are several at key points across the city:
Latest NYE News
The content on this page is written and maintained by Martin Kerrigan. If you have found it useful then please feel free to share it with your friends and family. If you have any comments or events to add to this page please Contact us.