Boston New Years Eve 2018
Fireworks, Events, Parties, Hotels, Restaurants, Concerts
Boston, Massachusetts, 31 December 2017, Midnight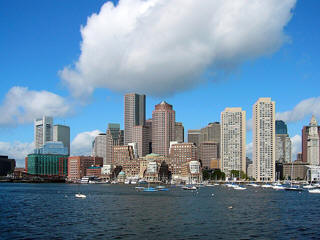 Boston's big new year's eve party, that has been welcoming the new year to the city for several years now, is the iconic First Night event, a family friendly, alcohol free public event that was the first of it's kind in the United States (the first one was actually way back in 1975) and has spawned many copycat versions in cities and states all across the USA.
There was some concern over the event in recent years with the First Night Boston nonprofit organisation announcing that is was having to close and, as is the case in many cities, First Night in Boston continues to experience budget problems in these straightened times.
The Boston Mayor though has pledged that the show will go on, with the municipality and local donors footing the bill instead, and he has to date been as good as his word. There's therefore no reason to expect the event not to continue again to welcome in new year 2018, even if it is with a smaller scale and budget - see below for up to date details.
New Year Fireworks, Events, Parties
Last new year the fireworks over Boston Harbor were actually cancelled and the fireworks were instead limited to a family fireworks show at 7pm on Boston Common and in Copley Square in Back Bay at midnight. We'll let you know if this will be the same again for new year 2018.
First Night is the signature Boston event, the oldest and largest of its kind in North America, typically attracting about one million people from throughout the region. The day-long celebration runs from 1pm to midnight each year on December 31.
First Night's traditional activities include a Family Festival at the Hynes Convention Center, the famous annual family-friendly Grand Procession down Boylston Street, colossal ice sculptures in Copley Square.
The event starts during the day with the Family Festival at the Hynes Convention Center, then as dusk arrives the Grand Procession travels to Boston Common where the night time entertainment takes place.
Elsewhere, one of Bostons top VIP events is the New Years Eve Party Timeless: which styles itself The Most Exclusive Boston New Years Eve Party, and has been taking place for several years now - the 2017-2018 event is the 9th annual incarnation and takes place at the Hilton Boston Back Bay Hotel.
There is also the traditional New Years Eve pub crawl, snappily titled the "Crawl 'Til The Ball Falls Bar Crawl" and featuring a selection of Boston's top bars. This isn't one for the faint hearted though so I would recommend getting a good lining on your stomach before heading out!
Classical music fans can choose to swing in the new year with Bo Winiker And the Boston Pops Swing Orchestra, a full night of music, drinks and dancing with classic tunes to get you in the party mood. This event takes place at the Symphony Hall on Massachusetts Avenue.
Speaking of which, whatever your plans you are probably going to want to eat at some stage and Boston doesn't disappoint when it comes to the range, quality and variety of restaurants either - check out some of the best restaurants here.
An increasingly popular option for new year celebrations in Boston is to take to the water for a cruise, where you can enjoy the skyline views. Odyssey cruises offer 2 NYE options, a lunch cruise and an evening dinner option, more details are available here.
Alternatively The Spirit of Boston provides another possibility, offering a New Year's Eve Dinner Cruise that includes a buffet dinner, live DJ, seasonal decorations, champagne toast at midnight and of course a fantastic view of the Boston Harbor - more details here.
NYE Live Streaming, Webcams
Places to watch live online, including a live stream from Boylston Street:
The First Night event is also being screened live on local channel WBZ-TV. We'll see if we can find an online stream and post the link here if we do - if there is a webcast available this is likely where you'll find it:
New Years Eve Hotels
Boston accommodation options are many and varied. Booking well in advance is always recommended during the holiday season. You can check availability and book local hotels here.
Popular Pages
The content on this page is written and maintained by Martin Kerrigan. If you have found it useful then please feel free to share it with your friends and family. If you have any comments or events to add to this page please Contact us.