Boise New Year's Eve 2019
Potato Drop, Fireworks, Events, Parties, Hotels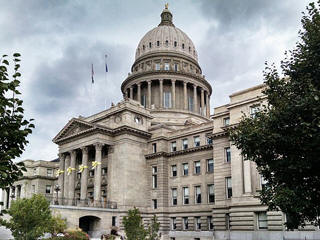 The Potato Drop in Boise is rapidly becoming one of the more well known off-beat new year's eve celebrations in the United States, attracting worldwide attention as it grows in popularity.
Boise is both the state capital and biggest city by population in the whole of Idaho so represents a logical choice to for people to come to celebrate new year's eve, and is becoming increasingly popular both with locals and visitors to the area alike, not least due to the arrival as a focal point of the celebrations of the Potato Drop new year party - see below for details!
If you're heading to Boise over the festive season then there are many attractions to help make the visit worthwhile. Top things to look out for are Julia Davis Park, the Discovery Center of Idaho, the Egyptian Theatre and Idaho Botanical Garden.
The Potato Drop
The big new year party in Boise is of course the Idaho Potato Drop, sponsored by the Idaho Potato Commission, a free, family friendly event which it's fair to say could only really take place in this part of the world, where they have a very special relationship with the humble spud!
The Potato Drop party draw crowds estimated at around 35,000 each year and takes place in front of the State Capitol in downtown Boise and includes a range of entertainment, including live music on a large outdoor stage featuring popular local acts, a Snow Park with tubing and other fun, VIP Tent (with a clear roof for fireworks viewing!), plenty of food and drink, plus of course the spectacular fireworks display accompanied by the eponymous dropping of the potato.
Outdoor heaters are also provided to help keep everyone warm, because quite frankly it's freezing in this part of the world over the whole new years season.
Parties & Events
Elsewhere in Boise on new year's eve there are a range of other parties and events to choose from if the Potato Drop isn't your thing - these include a Holiday Light Tour by limousine or party bus, Revolution Concert House dance party or New Year's Eve at Idaho Ice World - get more details on these and other events here.
New Years Eve Hotels
Hotels in Boise are pretty good value at this time of year. Try the Oxford Suites Boise, The Grove Hotel or the Hampton Inn and Suites Boise Downtown, the latter in particular ideally positioned for the new year celebrations.
You can search for deals at all of these venues, plus other local hotels here.
NYE Live Streaming, Webcams
There aren't too many live webcam views in the area, but we have managed to find this skyline view, which if you're lucky might catch some of the new year fireworks:
There's also a good chance of some TV coverage of the potato drop by the local channels, we'll post any links we find right here.
Latest NYE News
The content on this page is written and maintained by Martin Kerrigan. If you have any comments or events to add to this page please Contact us.