Baton Rouge New Year's Eve 2019
Red Stick Revelry, fireworks and live music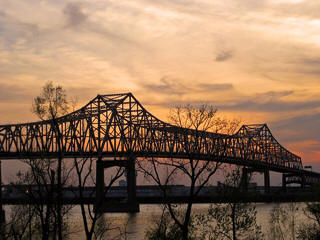 Baton Rouge in Louisiana is another one of the venues that the casual observer might not immediately associate with large scale and dramatic new year's eve parties, but for the last few years in particular they have been entertaining their citizens and visitors alike with a public event that adds a very local feel to the occasion.
Baton Rouge, as I'm sure you already know, translates from the French to red stick, which gives something of a spoiler to the main new year event - see below for more details!
Baton Rouge is actually the capital city of the state of Louisiana althoguh many people assume that to be the larger New Orleans, which of course holds it's own unique new year celebrations each year too - see our NOLA page for full details.
Things to do
The big party in Baton Rouge for new year's eve is called Red Stick Revelry. This event only started in 2013 so is a relatively recent addition to the calendar, but it has proven a big success and continues to grow in popularity, attracting crowds in the tens of thousands to the downtown area, with the main party centred on the Galvez Plaza area.
The evening includes live music and entertainment, with a focus on local acts, while the climax of the party comes at midnight, when a 9 foot long LED red stick is dropped from above the Beacon in Town Square.
The red stick drop is accompanied by a spectacular fireworks display centred over the Mississippi River.
The event includes entertainment throughout the day, with kid friendly events starting from 11am while the entertainment on the main Crest Stage in Galvez Plaza generally includes popular local acts. Lineup for new year 2019 to follow.
If you're looking for an alternative to the big public party there is also an annual new year celebration at the Crowne Plaza Executie Center in Baton Rouge - get more details here.
NYE Live Streaming, Webcams
The broadcast partner of the Red Stick Revelry party in baton Rouge is local TV Channel 9 WAFB so that's the place to look for live coverage. They are also available as a live online stream:
New Years Eve Hotels
There's no shortage of places to stay over new year in baton Rouge - top rated hotels include:
Wyndham Garden
Radisson Hotel
Drury Inn and Suites
L'Auberge Casino and Hotel
Residence Inn Siegen Lane
You can search for deals at all of these venues, plus other local hotels here.
Latest NYE News
The content on this page is written and maintained by Martin Kerrigan. If you have any comments or events to add to this page please Contact us.