Barbados New Years Eve 2019
Fireworks, Events, Parties, Hotels, Restaurants, Concerts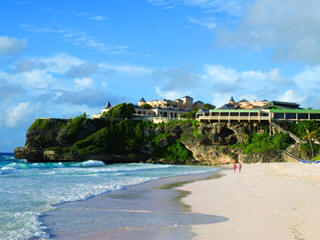 When I think of Barbados I somehow imagine myself on a beach, swaying in a hammock with a cocktail in my hand. I also think that this is one of the hotspots for celebrity sightings, if that's the type of thing you are into.
Most of us know Barbados is the hometown of Rihanna, but it's also a magnet for Brits, including the Beckhams, Rooneys and then there's Simon Cowell, who tends to venture there for the festive season.

But enough of this celeb talk, Barbados is a gorgeous location to spend New Year or more locally known as Old Year's Night, with spectacular golf courses, 5 star spas, take and island safari, or jump on a Bajan Bus for a fun sightseeing tour. Or don't move from the beach, dabble in a spot of scuba diving, windsurfing or take a leisurely cruise. For sports fans, Barbados is home to some fantastic cricket, rugby and motor sports, so whether it's R&R you've come for or some action packed adventure, Barbados will meet your every need.
Things to do
Should you find yourself in Barbados for New Year's Eve, then make sure you've booked your restaurant / party tickets as popular places are going to get booked up and fast.
If you're staying in a hotel resort you'll find they do their own celebrations with fireworks, or you could wander into Holetown for dinner and head to the First and Second Street Parties (tickets required for Second Street) where you can bring in the new year with great music, dancing and a whole lot of rum punch!

Looking for something more low key, then grab your own champers and a picnic and make a beeline for the beach before midnight and celebrate with 100s of others as the sky is lit up with the fireworks that can be seen from the big west coast hotels.

Wherever you decide you party the night away, remember to head to the east coast beaches where everyone gathers to watch the first sunrise of the new year!

Some restaurants you might want to visit are:

The Cliff
Nishi Restaurant
Castaways Bar & Grill
Champers
Naru Restaurant and Lounge
NYE Live Streaming, Webcams
I spotted this webcam for Mullins Beach which does appear to be live:
New Years Eve Hotels
Oh where to stay, where to stay! So many beautiful hotels to choose from in Barbados, but if you want to make sure you've got the accommodation you set your heart on. Book well in advance!

Beach View
The House by Elegant Hotels
Sandy Lane Hotel
Ocean Two Resort & Residences
The SoCo Hotel
You can search for deals at all of these venues, plus other local hotels here.
Latest NYE News
The content on this page is written and maintained by Yvonne Kerrigan. If you have any comments or events to add to this page please Contact us.