Atlanta New Years Eve 2018
Peach Drop, Fireworks, Events, Parties, Hotels, Restaurants
Atlanta, Georgia, 31 December 2017, Midnight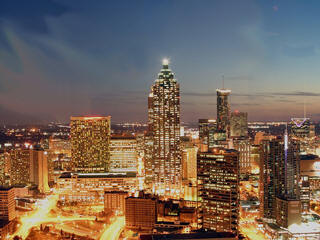 Peach Drop latest: Rumours that the event could be returning at the new venue of Woodruff park, with performance stage on Peachtree Street - more details as we hear them.
The Peach Drop party provides a focal point for the Atlanta NYE celebrations, putting a typically Atlantan twist on the more traditional ball drop you see in Times Square and elsewhere around the world.
The iconic event has been taking place each year since 1989 and the peach itself is made out of fibreglass and foam and weights in at over 800 pounds. It takes 58 seconds for the giant peach (nod to Roald Dahl here I think...) to descend the light-clustered 136 foot tower.
While the Peach Drop is a great event if you don't mind a bit of a drive there are very different new year's eve celebrations to be found in the lively parties and music of Nashville and, in the other direction there's the option of a quieter new year in Savannah.
New Year Fireworks, Events, Parties
The Peach Drop did eventually take place in Atlanta for new year 2017, taking place once again at the Underground Atlanta site. We'll look to confirm details for the new year 2018 events as soon as we can, although we do already know that it won't be taking place at the Underground as the site has now been sold on to property developers.
It remains to be seen whether an alternative site will be found for future Peach Drop parties, with Woodruff Park or Centennial Olympic Park having been mentioned as possible alternatives in the past - latest suggestions seem to favour Woodruff Park, confirmation to follow once we have it.
Atlanta's Peach Drop event serves as the central point for the more than 100,000 revelers who join in the family-friendly festival. The event includes carnival rides, vendors, live music, and its namesake Peach Drop (a play on the Times Square iconic ball drop), all in the name of the countdown to the new year. The event is held at downtown's Underground Atlanta and the surrounding Kenny's Alley area. lasting right up until 4am on new year's day morning.
One huge party that will definitely be taking place this year is Bassnectar performing live at the GWCC Georgia World Congress Center Authority, supported by What So Not, Ott, and Phutureprimitive. The event promises to be something really different, with organisers describing it as "a custom cut Portal where we can converge as one big family to bring in the The Future together". You can buy your tickets online here.
If you like to attend a public fireworks display in the area then you might like to head 50 miles or so west to the town of Tallapoosa where they hold an annual Possum Drop (not a real one thankfully!) accompanied by live music and fireworks - you can get more details here.
For spending some time in and around the city over the holiday period, recommended places to visit include the High Museum of Art, the Woodruff Arts Center, The Museum of Design Atlanta, commonly abbreviated to MODA and the Atlanta Contemporary Art Center.
For an event of a slightly more cultural feel, the ASO (Atlanta Symphony Orchestra) will be performing live at the Hodgson Concert Hall. This is always a very popular event with Atlantans on new year's eve so is likely to sell out fast
New Year's Eve in Atlanta also see football fans well catered for, with the Chick-fil-A Peach Bowl taking place at the Georgia Dome.
The bars, hotels and restaurants of Atlanta also host some great new year parties, which may be your best option now that it looks like there won't be a Peach Drop this year. Events to look out for include:
New Year's Eve Dinner & Dance Party at Hilton Atlanta Northeast
New Year's Eve Party at Crowne Plaza Ravinia
NYE 2018 at the Westin Atlanta South
The weather at the end of December is somewhat unpredictable, with anything from clear skies and warm sunshine to snow storms possible, but if it remains clement then there are some outdoor attractions worthy of the name - the Atlanta Botanical Garden features the Kendeda Canopy Walk, and the Atlanta Zoo remains enduringly popular, not least for the resident giant pandas.
When it comes to eating out then Atlanta elevates southern cuisine almost to an art form, but there is much more to the city's dining establishments than catfish and grits. Varuni Napoli and Don Quixote are top Italian choices, while Daddy D'z BBQ Joynt is a local instution. See the full range of Atlanta's many restaurants here.
NYE Live Streaming, Webcams
Places to watch live online - your best option for Atlanta NYE is generally to check out some of the local webcams:
You can also see a great selection of live online coverage from new year fireworks and parties across the US and around the world, including the NYC ball drop, in our brand new Live Streaming section.
New Years Eve Hotels
There is a wide selection of parties at the hotels and restaurants of the city - highlights worth looking out for include NYE at the ATL, a black tie event held at the Crowne Plaza Hotel, The Possum Drop New Years Eve Celebration at Possum Pickin in downtown.
Other hotels with a luxury touch are the Mandarin Oriental, Wingate by Wyndham, Four Seasons, The St Regis and the InterContinental Buckhead. For all accommodation options in Atlanta over the holiday period and to check availability you can book local hotels here.
Popular Pages
The content on this page is written and maintained by Martin Kerrigan. If you have found it useful then please feel free to share it with your friends and family. If you have any comments or events to add to this page please Contact us.