Athens New Year's Eve 2019
Fireworks, Events, Webcams, Parties, Hotels, Restaurants, Concerts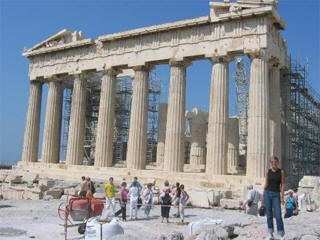 It's no secret that Athens, the famous and iconic capital city of Ancient Greece, has had a pretty tough time of it lately, with increasingly high unemployment and ongoing austerity enforced by an unpopular government dominating the local cultural scene in recent months.
However, if it's one thing the Greeks cannot be accused of it is lacking fortitude, so you can expect to see them putting their problems to one side for one night at least and concentrating on throwing a spectacular New Years Eve party to welcome in 2019 in the hope that it will be a much better year for everyone.
The picture above is actually one of our own, taken on our visit to Athens way back in 2004 (really doesn't seem that long ago!) If you look carefully you can see Yvonne lurking in the bottom right hand corner. It's a city we very much plan to return to one day, hopefully soon.
Things to do
New Years Eve is celebrated enthusiastically in Athens, and while there are no planned municipal fireworks this year you can be assured that the local businesses will attempt to step into the breach, with local bars, hotels and restaurants holding their own parties and all doing their best to light up the city and the sky come midnight.
One feature of Athens that marks it out from most other major European cities is the proliferation on roof gardens maintained by the hotels - the densely packed nature of the city centre means public space is at an absolute premium, so local hoteliers have circumvented this restriction by taking their public areas vertical, so on many city centre hotel roofs you will find attractive bars, many with pools and restaurants, and this provides a perfect setting for a panoramic view of the midnight firework displays.
From one of these lofty perches you can have a fantastic view of the city's main attractions, including Syntagma Square, The Acropolis and the Parthenon, Cape Sounion and the Temple of Poseidon and The Ancient Agora.
Dining in Greece is more than a refuelling exercise, it's practically a way of life, and the traditional meze can last over many hours, with dozens of courses. International cuisines are well represented in such a cosmopolitan city too however, and top recommendations include Daphne's, Alatsi, Funky Gourmet and Arsenis Taverna. For vegetarians the meze has plenty of options but there is an increasing range of vegan dining available here too, with Avocado and Rosebud leading the way. See the full range of eateries here.
NYE Live Streaming, Webcams
Places to watch live online: Athens webcams
New Years Eve Hotels
As discussed above, we recommend finding yourself a hotel with a roof terrace for the best viewing options, Browse the selection, check availability and book local hotels here.
Latest NYE News
The content on this page is written and maintained by Martin Kerrigan. If you have found it useful then please feel free to share it with your friends and family. If you have any comments or events to add to this page please Contact us.