Aspen New Year's Eve 2019
Aspen new year fireworks, torchlight parade, top parties & hotels for NYE 2018-2019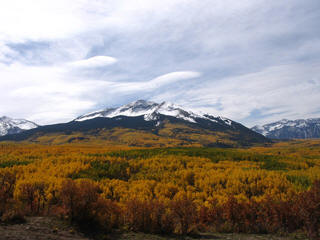 Aspen in Colorado is a fabulous place to head for over the Christmas and new year period, this winter wonderland of a town and ski resort perched high in the Rocky Mountains attracts huge number of visitors for the winter ski season and responds in fine style by celebrating new year's eve in a big way, making this an exceptionally popular choice to welcome the new year.
You'll be spoiled for choice of new year's eve parties and events in Aspen, with the town coming alive apres-ski with plenty of spectacular fireworks displays to choose from, lively outdoor public parties as well as lavish gala dinners in the some of the town's wide range of resorts and hotels.
Ski resorts generally are always a popular choice and Colorado has several reat options to chhose from, but Aspen always remains as one of the most iconic options.
Fireworks
The City of Aspen leads the way with the new year celebrations, which form part of the 12 Days of Aspen festive events calendar, which gets underway on 20th December - see the full event calendar leading up to new year's eve here.
On new year's eve itself there is a free outdoor party in Wagner Park in downtown Aspen, where there is a roaring bonfire to help keep you warm as well as free live music throughout the evening, with food and drink available from a range of vendors.
They also arrange not one, but 2 seperate fireworks displays. The first, aimed at a family audience and those with younger kids in particular, takes place at 8pm and is then followed by the spectacular main fireworks show at midnight.
The fireworks can be seen from miles around, and some people choose to go for one of the best possible vantage points by taking the hike up to the top of Smuggler Mountain where you can enjoy the panoramic views from the Smuggler viewing platform.
Parties & Events
Another popular new year display takes place in nearby Snowmass Village, where they mark new year's eve with a torchlight parade that starts at 5.45pm and is followed by fireworks set to music at 10pm.
For private parties in the town's many hotels and restaurants you are thoroughly spoiled for choice - some of the most popular new year venues to check out are:
St Regis Resort (they also hold their own fireworks)
Shadow Mountain Lodge
The Little Nell Hotel
Wheeler Opera House
Sky Hotel
Rec Room
The Limelight Hotel
Crystal Palace
There is also a big new year party at the Belly Up Aspen music club, who host live concerts on both the 30th and 31st December. The headline act this year will be Jane's Addiction.
Live Streaming, Webcams
Aspen, being a popular ski resort, is blessed with some spectacular webcam views, mainly there to check out snow conditions but on new year's eve doubling up as fireworks viewing streams:
New Years Hotels
Accommodation in Aspen is plentiful, but obviously very popular over new years. so book well in advance, especially if looking at venues like the Regis Resort and Sky Hotel who hold their own parties.
You can search for deals at all of these venues, plus other local hotels here.
Latest NYE News
The content on this page is written and maintained by Martin Kerrigan. If you have any comments or events to add to this page please Contact us.