Arezzo New Year's Eve 2019
Giode to the best NYE parties and festive fun for new year's 2018-2019 in Tuscany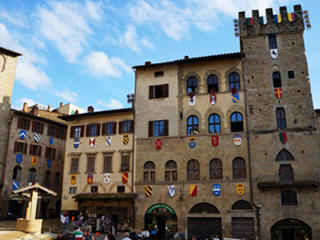 Should you enjoy medieval cities, then New Years Eve in Arezzo is definitely for you! If, like me, you have a rampant imagination and enjoyed stories of knights and fair maidens, Arezzo is pretty much the location you'd picture in your head.
Beautiful narrow streets winding up steep hills, a labyrinth of streets that thread their way throughout the city and can spit you out in any number of piazzas. People gathered for drinks and catching up on the latest happenings, laughter and a friendly buzz is what we found when we visited.

December offers visitors a wonderful array of festive events, including the great Christmas Markets in Piazza San Jacopo and Piazza Risorgimento and there are nativity scenes throughout the city to enjoy. If you're an antique fan then the Antiques Market (first weekend of the month) is usually Christmas themed in December, find it on Piazza Grande.

But just get out there and explore, it's perfect for walking around and there's many a café or bar to stop in for refreshments. Shopping here is also very easy with many shops to peruse, especially Corso Italia!
Things to do
The piazzas of Arezzo are the place to be come New Years Eve, many, including Piazza Grande, Piazza Sant'Agostino and Piazza San Francesco which all have live entertainment and a huge gathering of people waiting to toast the Capodanno. There will be stalls selling the traditional panettone and a glass or two of Spumante while you dance and sing into the night.

There are no fireworks in Arezzo but there is still the wonderfully illuminating lanterns.

Parco il Prato hosts a free end of year party with live dj sets and great music, it's a family event with face painting and entertainment for the kids, then the toast at midnight with the release of balloons which make for a wonderful evening.

Many of the bars and restaurants will have special New Year Events arranged so it's best to check with the venue regarding tickets and reservations closer to the time

There is a wonderful selection of restaurants to choose from in Arezzo, many local events will have dinner included but if you are looking to book something yourself, remember to make your reservation in advance:

Bistrot31
Ristorante Dario e Anna
Albikokka Restaurant
Ristorante Antica Pieve Osteria De' Cenci
NYE Live Streaming, Webcams
Sadly, I can't find any live webcams for Arezzo as yet.
New Years Eve Hotels
This beautiful city is a great place to stay for New Years Eve, with a fantastic selection of hotels available, just remember to book your room in plenty of time:

Minerva Hotel
Hotel Continentale
Etrusco Arezzo Hotel
AC Hotel Arezzo
Hotel Piero Della Francesca
From personal experience it's also worth checking out Airbnb for deals.
You can search for deals at all of these venues, plus other local hotels here.
Latest NYE News
The content on this page is written and maintained by Yvonne Kerrigan. If you have any comments or events to add to this page please Contact us.