Antigua New Years Eve 2018-2019
Fireworks, Events, Parties, Hotels, Restaurants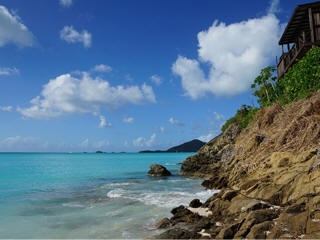 This is a sea farers dream come true, with Nelson's Dockyard filled with super yachts for the annual Yacht show and Nelson's Pursuit on New Years Eve, you can wile away the hours at one of the nearby restaurants.

Water babies will love the kayaking, scuba diving and snorkelling, don't miss the Pillars of Hercules, a popular dive site, or perhaps a yacht excursion or a sunset cruise.

For land lovers there is lots to choose from, from exploring the rainforest to experiencing the Saturday morning Market in St John's Market Street. Or of course you could just hang around the beach, relaxing and catching up on some well deserved rest!

If you are interested in exploring or getting to know more about this fabulous island then spend a day at the museums, including the Admiral's House Museum and the Museum of Antigua and Barbuda, or head up to Fort Barrington for some exquisite views. Catch a sunset from one of the many stunning bays, like Deep Bay or Dickenson Bay, or for panoramic views head upwards to Shirley Heights for a truly memorable experience.
Things to do
So you are in Antigua for New Years Eve, where are you going to go?

For those who love a bit of sailing there is the annual Nelson's Pursuit Race at English Harbour, this is a great event which also helps raise money for charity and you can also indulge in a glass of the famous Chippy Rum. The event starts around 11am just below Fort Charlotte. After the race there is the Nelson's Dockyard Old Years Night Party, a big public event with champagne, music, dancing and fireworks!

If you are closer to Jolly Beach then there is usually fireworks at Hermitage Bay and also the resorts around there including Sugar Ridge Resort and the Jolly Beach Resort. Staying closer to St Johns, then head to the Dickinson Bay where you could find a nice spot to enjoy the resort fireworks.

The hotels, bars and restaurants will be holding New Years Events, it's best to check with the venue regarding ticket information or reservation requirements. There is a whole host of events, from black tie dinners to more low key events like live music in local bars.

There is a great selection of restaurants in Antigua, make your reservations as soon as you can to beg your table:

Shirley Heights Lookout
Papa's By The SeaMelini's
Trappas Bar & Restaurant
Pillars Restaurant
NYE Live Streaming, Webcams
No live webcams of use, but we'll keep checking for live streams.
New Years Eve Hotels
A beautiful selection of hotels awaits you in Antigua, from big resort to smaller intimate settings, book your accommodation well in advance and relax for the New Year:

Curtain Bluff Resort
Hermitage Bay
Galley Bay Resort
Keyonna Beach Resort Antigua
COCOS Hotel Antigua
You can search for deals at all of these venues, plus other local hotels here.
Latest NYE News
The content on this page is written and maintained by Yvonne Kerrigan. If you have any comments or events to add to this page please Contact us.