Amsterdam New Year's Eve 2019
All the best fireworks, parties, hotels and restaurants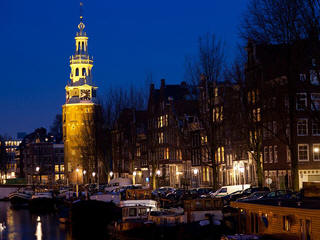 What more can you say about Amsterdam as a venue for celebrating New Years Eve? The legendary Dutch party capital offers quite literally something for everyone, from the awe inspiring fireworks that can be viewed on the famous Museumplein to a wide range of top hotels, fine dining restaurants and coffee shops, bars, cabaret and shows with a variety and range few places anywhere on the planet can match!
I did actually visit Amsterdam with a group of friends in the dim and distant past and although it would be fair to say we probably didn't fully capitalise on the city's cultural diversions I saw enough of the place to recognise that it is a beautiful city, with the canals and architecture giving it a unique appeal, and certainly somewhere very much on the bucket list for a future new year's eve party.
Fireworks
When it comes to New Years Eve fireworks, the people of the Netherlands absolutely love to watch them, and the more spectacular the better. So much so that the whole of the country is covered in private displays all night starting from around 6pm until well into the following day. To gain the best vantage point for viewing the fireworks on the Amstel River, some of the best views are available from Magere Brug.
The streets and the squares of the city will all be packed throughout the evening, and the most popular areas include Leidseplein, Nieuwmarkt and Rembrandtplein, plus of course the eponymous Dam Square, where beer tents are set up and live entertainment continues throughout the evening.
Parties & Events
Amsterdam's largest annual countdown will take place this year in front of the Rijksmuseum on Museumplein. The free event starts at 21:30 and continues until after midnight and attracts huge crowds of party-goers so it is advisable to get there very early to secure yourself a prime viewing vantage point.
Elsewhere, the Amsterdam club night TIKTAK hosts their annual and exceptionally popular New Year's Eve event at the Heineken Music Hall.
Away from the public celebrations there are a huge range of new year parties and events to choose from in the city's wide range of bars, clubs and restaurants, details of some of the best options for new year 2019 to follow.
Amsterdam is also famous for its symphony orchestra, the Royal Concertgebouw Orchestra, which is housed at the Concertgebouw, adjacent to the Museumplein. This particular concert hall is regarded by many as having some of best acoustics in the world, although in the interests of impartiality it should probably be noted that in the world of concert halls this doesn't exactly qualify as a unique claim!
Restaurants
The Dutch take dining out very seriously, so if you're planning on eating out in Amsterdam on new year's eve then it is vital to make your reservation in advance.
Fine dining is a particular favourite and Restaurant Johannes is especially recommended, as are Beddington's and, for Chinese, Mandarijn. A top vegan option is Memories of India. For the full range of Amsterdam eateries, check out the listings here.
NYE Live Streaming, Webcams
Places to watch live online, including live cam streams from the Prinsengracht and Dam Square:
New Years Eve Hotels
Amsterdam offers a wide range of accommodation options, from budget hostels with a shared room and bathroom to high top end 5 Star establishments. You can check availability and book local hotels here.
Latest NYE News
The content on this page is written and maintained by Martin Kerrigan. If you have found it useful then please feel free to share it with your friends and family. If you have any comments or events to add to this page please Contact us.