Acapulco New Year's Eve 2019
Find the best new year's eve fireworks, parties, hotels & events for NYE 2018-2019 in Acapulco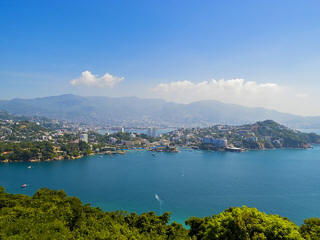 Acapulco hosts some top new year's eve parties, with fireworks displays over the bay and beach parties expecially popular with locals and tourist visitors alike.
The majority of new year tourist traffic comes from the United States, with many Americans choosing to enjoy some winter sun over the festive period.
If you are heading to Acapulco over the festive season then you're probably not planning much beyond relaxing and spending time at the beach, with Playas Caleta y Caletilla always a popular choice, but we also recommend taking time to check out the Malinalco Archeological Zone, a fabulous historical site located just above the town.
New Year Traditions
If you're spending new year in Acapulco then you'll need to be aware of some of the local traditions. In Mexico they have embraced the Spanish new year tradition of eating 12 grapes at midnight, while they also like to eat lentils and throw a bucket of water out of the window, so keep your wits about you if wandering the streets during the evening!
NYE Fireworks
New Year's Eve in Acapulco generally centres around spending the evening partying in the town's many hotels, bars and restaurants before finding a spot to watch the fireworks over Acapulco Bay (called Aca bay locally) at midnight - the display is a spectacular one, lasting a good 15 minutes.
There is a big party at the Grand Hotel Acapulco that includes a gala dinner, drinks and entertainment with a live band and DJ. The hotel also has a great location right on the bay for watching the fireworks.
Another possible option is the Playita Santa Lucia Beach Club who offer a special new year's eve dinner and have a fantastic location right on the beach - be sure to make a reservation well in advance though, anywhere near the beach is sure to be packed throughout the evening.
New Year's Eve Hotels
If you're looking for places to stay in Acapulco on new year's eve then we recommend finding a place as near to the bay as possible as you're going to want to be able to walk home after watching the fireworks - the traffic heading out of town will be a nightmare and that really isn't how you want to spend the first few hours of the new year.
Decent choices would be the Grand Hotel Acapulco & Convention Center the Crowne Plaza or the Hotel Copacabana Beach.
You can search for deals at all of these venues, plus other local hotels here.
NYE Live Stream
There are some great webcam views over the beach and bay at Acapulco if you want to check out the new year fireworks display live:
Latest NYE News