Singapore Chingay Parade 2018
Top Chinese New Year celebrations in Singapore, watch live streaming online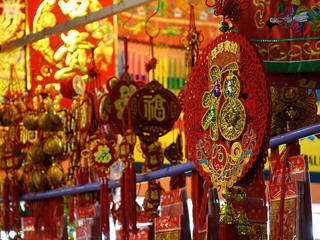 Chinese New Year is a huge event in Singapore, with celebrations in the weeks leading up to the new year full of events and parties, culminating in the spectacular 2 day Chingay Parade, one of the most famous Chinese New Year parades anywhere in the world.
The Chingay Parade this year will be taking place on Friday 23rd and Saturday 24th February, getting underway at 8pm on both evenings.

Chinatown is a wonderful place to visit during this time, with the Chinatown Wishing Tree, nightly stage shows in Kreta Ayer Square, the annual Lion Dance Competition in the carpark at Banda Street, the whole place is a sensory overload in sight, smell and sounds to evoke the festive spirit.
CNY Traditions
When it comes to celebrating Chinese New Year, Singapore goes all out on the festivities.

Head to Chinatown and feast on some traditional food and drinks, enjoy the illuminated narrow streets packed with vendors, venture to New Bridge Road and Eu Tong Sen Street for live performances and the fabulous countdown with firecrackers and fireworks.
Fireworks
There is also a wonderful annual event held at the floating platform at Marina Bay on the River Hongbao, stunning giant lanterns illuminate the sky, including the renowned 18 meter high God of Fortune that dominates the sky line of this event. There is on stage entertainment including musicians and more traditional artists, funfair rides and delicious street food will be on offer. This all culminates in the countdown to the new year with a fantastic firework display!
Chingay Parade Schedule
Although it's held after the Chinese New Year, do not miss the massive Chingay Parade on the 23rd and 24th February, running from 8.00 - 9.30pm at the F1 Pit Building by the Marina Bay Waterfront, which features huge and intricately designed floats, a huge collection of local entertainment, dancing dragons, music, aerial acts and if that's not enough to wow the senses, then the grand finale with thousands of participants lighting sky lanterns and fireworks will really be a sight to behold.
You can get your tickets for the 2018 Chingay parade here:
Restaurants
Restaurants will be busy at CNY and sometimes a lot more expensive depending on where you end up dining, try out one of these restaurants during your stay:

Summer Pavilion
Colony
The Curry Culture
Peach Blossoms (Marina Mandarin)
The National Kitchen by Violet Oon at the National Gallery
Live Streaming & TV
There will be live streaming and television coverage of the Chingay parade by the local TV networks, and we will have the links right here, so check back for details.
Chinese New Year Hotels
Singapore is a gem of a city to visit and gets mighty busy for Chinese New Year, book your room in advance:

Raffles Hotel Singapore
The Fullerton Bay Hotel Singapore
AMOY by Far East Hospitality
Hotel Vagabond, A Tribute Portfolio Hotel
InterContinental Singapore
You can search, check availability and book local hotels here.
Latest NYE News
The content on this page is written and maintained by Yvonne Kerrigan. If you have found it useful then please feel free to share it with your friends and family. If you have any comments or events to add to this page please Contact us.