San Francisco Chinese New Year Parade 2018
Watch live streaming of the Chinese New Year of the Dog parade from San Francisco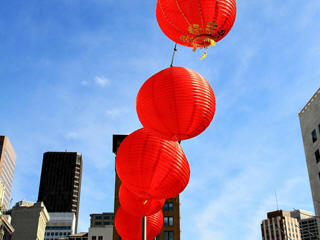 The Chinese new year parade in San Francisco this year takes place on Saturday 24th February, starting from 5.15pm and lasting for around 3 hours. The parade this year signified the beginning of the Year of the Dog, so you can certainly expect a canine theme from many of the participants.
The San Francisco Southwest Airlines Chinese New Year Parade is one of the largest not just in the US, but anywhere in the world.
When the night parade comes around it is a spectacle worthy of note; the centrepiece is a Golden Dragon, measuring over 200 feet in length and manned by around 100 specially trained volunteers. At the end of the parade there is a fireworks display to bring the festival as a whole to a close.
Parade Schedule
The parade itself is actually part of a larger festival that takes place in the weeks leading up to the main event, while the parade represents the climax and generally takes place a full 2 weeks after the official Chinese New year date.
The earlier festival is mainly centred around 2 different fairs; the Chinatown Community Street Fair and the Chinese New Year Flower fair.
The Chinese New Year parade gets underway at 5.15pm from 2nd and Market streets, and follows a straightforward route, travelling initially down market street before moving in turn onto Kearny, Post, Powell and Sutter before finally coming to an end on Coumbus Avenue.
There is an online map of the complete parade route available here:

Chinese New Year parade route

There are decent viewing points all along the route, but it will get crowded so the usual advice is to get down there as early as you can to secure yourself a decent position. General viewing is free of charge but if you would prefer a seat and an elevated position then there are bleacher style seats available for a fee:
Parade Live Stream, TV Coverage
Local TV coverage of the event is actually very good, with 2 local channels covering the event.

The parade will be shown live on KTVU Fox 2 and KTSF Channel 26, with coverage from 6-8pm.

The best bet for watching this via a live online stream would seem to be the KTSF option as they provide a streaming service via their own mobile app, available for both iPhone and Android.
You should also probably be aware that this channel is broadcast in Chinese:

KTSF App
Chinese New Year Hotels
If you're planning on visiting San Francisco or the surrounding areas over the Chinese New Year period, then early reservation is strongly recommended to give the best choice of accommodation.
You can search, check availability and book local hotels here.
Latest NYE News
The content on this page is written and maintained by Martin Kerrigan. If you have found it useful then please feel free to share it with your friends and family. If you have any comments or events to add to this page please Contact us.