Boston Chinese New Year 2018
Parade, Festival, Carnival, Fireworks
Chinatown, Boston, 28 January, 11am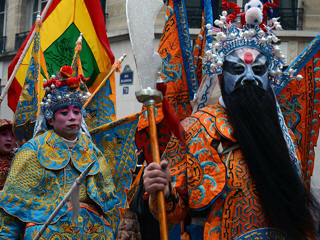 Chinese new year is celebrated widely across the United States and in Boston, a city with a reasonably sized Chinatown district and an enthusiastic Chinese heritage the focal point of the celebration is the Chinese New year Parade. While the parade is the highlight, the lunar new year is a time for partying and special events all across Boston's Chinatown (an area enclosed by Essex Street, Washington Street, Kneeland Street, and the Greenway and situated in close proximity to the theatre district.
The parade itself centres on the iconic Lion Dancers and is the usual cavalcade of noise and colours, with red, a significant colour for the Chinese, in plentiful evidence. You can also expect to see traditional drummers and hear the crack of firecrackers as the parade works it's way through the streets.
With this being Boston it is still very much winter at this time of year so there is a high likelihood of snow and freezing temperatures so one piece of advice we can give is to make sure you wrap up very warm. If the weather does turn bad then it's also worth double checking the local news reports before you head out as the parade and associated events have been adversely affected in the past - we wouldn't want you to have a wasted journey!
Parade Route, Schedule, Festival Events
Note: We currently have the date for this parade as March the 1st based on previous years' scheduling in relation to the actual Chinese New Year date - in Boston they typically schedule the event for the Sunday a full week afterwards. This hasn't yet been officially confirmed and may turn out to be earlier, so please check back before making definite plans; we'll update the page as soon as we have official confirmation.

The parade route takes it around the Chinatown district, although it is tricky to pin down a pre-defined or definite route. Your best bet is probably to head for the Beach Street area and follow the crowds. The whole area will be closed to traffic for the day's celebrations, which makes it a lot easier to find your way around. Chinatown does typically get busy around the time of the parade, but not to a ridiculous degree so you should be able to secure a viewing point without too many problems if you're there in plenty of time.

Of course if you're heading to Chinatown for the parade then you're probably going to want to check out the national cuisine - who doesn't like an excuse to have some Chinese food?? Fortunately in this part of town you are more than adequately catered for - popular dining choices include the Taiwan Cafe, Gourmet Dumpling House, Bubo C'ha C'ha, Hei La Moon and Jumbo Seafood Restaurant. Chinese is one of those cuisines where there are always a fantastic range of vegetarian and vegan options too - just need to be a little careful about where they put that fish sauce! You can check out the full range of Boston's Chinese restaurants, along with plenty of customer reviews here
Live Streaming and WVideo
With such a local event there isn't too much interest on a national or international scale so finding a live stream of the Chinese New Year parade is going to be on the tricky side. Any live coverage of the vent is most likely yo be found via the local radio station WBZ1030 - you can listen live online here:
There is also a wide range of footage from previous years' parades available on Youtube which can help you to get a feel for what the day is all about. It's also likely that new streams of this year's event will be added as the day goes on so it's usually worth checking back:

Boston Chinese New Year videos
New Years Eve Hotels
If you're planning on visiting Boston for the Chinese New Year celebrations, then there is plenty to choose from, and prices at this time of year tend to be very reasonable. You can search, check availability and book local hotels here.
Popular Pages
The content on this page is written and maintained by Martin Kerrigan. If you have found it useful then please feel free to share it with your friends and family. If you have any comments or events to add to this page please Contact us.