Newcastle New Years Eve 2018
Fireworks, Events, Parties, Hotels, Restaurants, Concerts
Newcastle, England, 31 December 2017, Midnight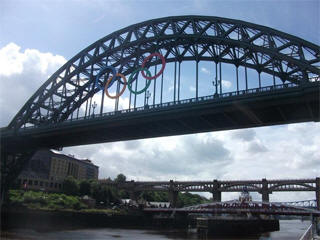 Newcastle is widely acknowledged as the party capital of the North of England, and New Years Eve is a very big night where the city very much comes into it's own.
Likely sub-zero temperatures will do nothing to deter the great Geordie public and they will take to their city centre to hits the bars, restaurants and clubs before spilling out onto the Quayside and along the banks of the River Tyne to watch the countdown and midnight fireworks over the famous and iconic Tyne Bridge.
This is actually my home city, although I haven't live in the area for many years now, but I have seen in many a happy new year in Newcastle, and I can certainly recommend it as one of the best you will find anywhere in the world! it will be crazy busy though, so make sure you have a plan and make any bookings well in advance! The picture above is actually one of our own, taken from the quayside in summer 2012 (hence the Olympics logo on the Tyne Bridge)
New Year Fireworks, Events, Parties
For NYE 2017-2018 Newcastle's local council is really pulling out all the stops with a series of special events.
First there is the now famous annual Winter Carnival Parade in the city centre, followed by midnight fireworks on the city's iconic Quayside. The carnivall parade is manned by volunteer torch-bearers who lead the way through the city streets.
The parade leaves Grey's Monument at approximately 5.15pm and travels down Northumberland Street, then along John Dobson Street, back through St. Mary's Place and on to Barras Bridge. It is advisable to arrive early to secure yourself a prime viewing spot.
The midnight fireworks return to the quayside again this year, thanks in large part to support from the Crowne Plaza as well as a host of local businesses helping to keep the city's new year party as entertaining as possible. This display is centred over the city's iconic Tyne Bridge - head down as early as you can to the Quayside area to secure yourself a good spot for the best views.
Most people will spend the evening in the various bars and restaurants of the famous Bigg Market and Quayside areas of town, where the lively atmosphere is something close to legendary, with Newcastle frequently finding itsefl featured on lists on the top party cities in the world.
On new year's eve this is stepped up and extra notch and the town will be very crowded - we advise working out your agenda for the evening well in advance and arranging tickets for the appropriate venues to make sure you avoid disappointment. You can expect to pay a premium for the occasion too, with even regular bars commonly charging a fairly sizeable admission fee for their new year's eve parties.
There is also a typically a series of new year's eve events at The Sage, just across the river in Gateshead - details to follow.
The restaurant scene in Newcastle is pretty comprehensive these days too, so whatever your preference there will be something to meet your tastes. I'm a fan of the Akbar's Indian near the train station in particular, although be warned it is always very busy. For a quicker, more economical option the various Chinese restaurants in Chinatown on Stowell Street offer some great all you can eat buffets, another big personal favourite!
There are also now finally some vegan dining options open in Newcastle's city centre - check out the full range of the city's restaurants here.
NYE Live Streaming, Webcams
Places to watch live online, including live views of the Tyne Bridge and Quayside:
New Years Eve Hotels
Newcastle hotels and guest house accommodation fills up very quickly at this time of year, so be sure to check availability and make your reservations early for local hotels here.
Popular Pages
The content on this page is written and maintained by Martin Kerrigan. If you have found it useful then please feel free to share it with your friends and family. If you have any comments or events to add to this page please Contact us.