Manchester New Years Eve 2015
Fireworks, Events, Webcams, Parties, Hotels, Restaurants, Concerts
Manchester, England, 31 December 2014, Midnight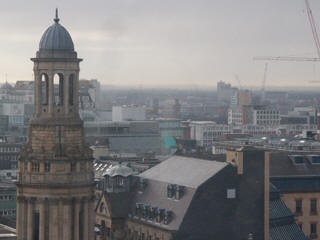 BY MARTIN KERRIGAN
The city of Manchester is always lively on New Years Eve, with the city centre acting as a magnet to residents and visitors from the local area, attracted by the bright lights of the Oxford Street area and the buzzing nightlife down Canal Street. With packed bars, clubs and restaurants, Manchester has something to offer everyone for NYE 2015.
Although not quite as lively as the huge events in London or Edinburgh this is still usually a decent-sized party and will be very busy, so if you are planning on being here then be sure to make your plans and any necessary reservations well in advance. Getting home is likely to be an issue too with taxis very much at a premium after closing time, so get one booked before you head out if you can.
There is usually a large scale public fireworks display as well, but the Manchester council have made something of an art form of delaying a decision on this and then throwing something together at the last minute, so it can be very difficult to plan in advance - we will keep you informed on any rumours as soon as we can, keep an eye on the fireworks section below.
Fireworks, Events and Parties
The New Years Eve fireworks are traditionally the highlight of the city centre celebrations, and after much confusion where cancellation was talked about and a very late decision there was an event last year, greeting 2014 with a 10 minute fireworks display in the city's famous Piccadilly Gardens.
There is thankfully less confusion surrounding the vent this year, and it has now been confirmed that the new year's eve party will be returning again for NYE2014-2015, with the gardens again providing the focal point, and the Piccadilly big wheel in particular.
The wheel was closed for a time this year due to some technical problems with the nearby fountains but is open again now and the owners, Wheel Entertainment, have kindly confirmed they will foot the bill for this year's New Year's Eve Celebration. This is excellent news as the city will gain have a focal point for the party and a fitting backdrop for the midnight fireworks.
Manchester is of course famous as clubland, so the locals bars and nightclubs will be pulling out all the stops to put on the best parties, with the iconic Canal Street always a popular destination. Top venues around the city this year include the Baa Bar, Revolution, Lloyds Bar, Norwegian Blue and Tiger Tiger - party and ticket details to follow.
Those looking for a more sophisticated edge to their evening should head for The Bridgewater Hall for their famous annual New Years Eve Opera Gala, featuring the Manchester Camerata accompanied by well known stars of the West End. There is a Last Night of The Proms style finale to usher in the new year in style - tickets are also available online or from the Bridgewater Hall Box Office.
If you're looking for a quieter evening, or just some pre-party sustenance then Manchester has a vast range of restaurants from small cafes to 5 star luxury establishments you won't go hungry, that's for sure! You can check out the full range of local restaurants here.
Live Streaming and Webcams
Places to watch live online, including a live camera on Oxford Street:
Hotels and Accommodation
Places to stay are plentiful in the city and more fashionable suburbs around Wilmslow and across Cheshire, for early bookings and availability check out local hotels here.
Reviews & Sharing
If you have found the content on this page useful then please feel free to share it with your friends and family using the social media sharing tools below:
We're always interested in hearing comments and feedback from anyone who has attended these events, or if you have any information or updates that might be useful for us to add to the page then please Contact us or complete the feedback form below:
Other Popular Locations