Vienna New Years Eve 2016
Fireworks, Events, Webcams, Parties, Hotels, Restaurants, Concerts
Vienna, Austria, 31 December 2015, Midnight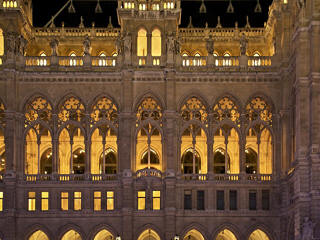 Vienna in Austria is widely regarded as one of the cultural capitals of Europe, and the theme of the new year celebrations very much reflects this, with a focus on high culture events such as opera and classical music. That's not to say there isn't anything for more down to earth participants to enjoy, with a lively club scene as well as a huge range of international bars and restaurants providing something for everyone.
Vienna has a reputation as one of the most welcoming and safe of European cities so, although it may be a little pricey, it is well worth consideration as a new years venue - it's certainly on my bucket list as the combination of crisp wintry weather, colourful fireworks and the bright city lights really appeals.
New Year Fireworks, Events, Parties
If you mention Vienna and New Year in the same sentence then the most popular reply you will receive will mention the New Years Day concert, the city's iconic annual event. The New Year's Concert held at The Vienna Philharmonic is without doubt the most famous New Year concert in Europe, an probably the world, although less people know that aside from the main concert there are also preview events held on both the 30th and 31st December, so that does become another NYE option too.
The Vienna new year Philharmonic concerts have become so popular that the only way to secure a ticket these days is to enter your name in the draw, where ticket allocations for both the new year's eve and new year's day events are decided by the drawing of lots.
Away from the concert scene, the Vienna Town Hall, the Wiener Rathauskeller, holds a New Years Eve Gala event, with extensive buffet meal and a full musical programme including of course the Viennese waltz. A popular highlight of the gala is the official opening of the ball by the young debutants of a local Viennese dance school.
The main midnight countdown and fireworks in the city centre are focused on St. Stephen's Cathedral, where the chimes of the giant Pummerin bell mark the last 12 seconds of the old year, before the new is launched into your consciousness with a cacophony of fireworks lighting the city sky.
NYE Live Streaming, Webcams
Places to watch live online:
New Years Eve Hotels
Vienna's hotels are among the best in Europe, and although the prices tend to reflect this quality you are unlikely to be disappointed as standards are very high, For Viennese hotels and online bookings, visit local hotels here.
Reviews & Sharing
The content on this page is written and maintained by Martin Kerrigan. If you have found it useful then please feel free to share it with your friends and family using the social media sharing tools below. If you have any comments or events to add to this page please Contact us.