Rome New Years Eve 2017
Fireworks, Events, Parties, Hotels, Restaurants, Concerts
Rome, Italy, 31 December 2016, Midnight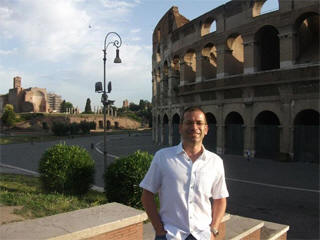 Rome draws visitors from across the world all year round, and is especially popular during the Christmas and New Year holiday period. The fireworks are always popular, with a backdrop that few places can hope to match
The Colosseum, Spanish Steps and Piazza di Spagna, Piazza Navona and Monument of Vittorio Emanuele II are all popular gathering places to take part in the midnight countdown and pyrotechnic displays.
I was fortunate enough to visit Rome recently and the sheer magnificence of the place genuinely takes the breath away - with so many instantly recognisable landmarks it's a little like walking onto a live film set. It is a manic place at the best of times though, especially around the main tourist sites, so make sure you have a clear plan of where you're going and what you're doing, as your chances of walking straight into a party or restaurant on new year's eve are very limited without tickets and/or a reservation.
The picture above is of my good self at the Colosseum back in June 2013 - you can expect it to be a little chillier than that though if you're there in December!
New Year Fireworks, Events, Parties
With such a large city the places to visit are many and varied, but the main Rome New Year's Eve (La Festa di San Silvestro to the locals) celebrations are centered in the Piazza del Popolo. Huge crowds of locals and visitors alike rejoice and welcome in the New Year with live music, dancing and of course the obligatory fireworks at midnight.
There is also an outdoor clasical music concert at the Quirinale Palace piazza and at the Colosseum a live musical performance at the Via dei Fori Imperiali. With all of these venues there will be huge crowds throughout the evening, so make sure you arrive early.
Last year Rome also hosted a massive dance and electronic festival over the new year period, with the Amore Music Experience (or Love Festival) taking place from the 29th-31st December at the city's Sheraton Golf Hotel - this has proven very popular over the last couple of years so we would expect it to return again this new year - keep an eye on the official site for more updates and ticket sales.
The bars and clubs of Rome compete tohold the best and most glamorous parties with a wide range to choose from to cater to most preferences. Some of the best suggestions can be found here.
The celebrations in Rome continue into New Year's Day, where there is a massive public parade that travels from the via della Conciliazione to Saint Peter's Square, so greet the New Year with the new year service at The Vatican, so if you don't have too much of a hangover that should be well worth joining.
Rome at this time of year also offers a number of festive offerings to help make the holiday season special, including a large Christmas tree at the Colosseum, lights in the main strets throughout the city and a Christmas market in the Piazza Navona.
Dining out is hugely popular in Rome at the best of times and becomes even more so at new year, so even with an estimated 6,000 eating establishments to choose from you'll be wise to make your reservations early, especially if you would like to get into the most popular venues near the big public parties. Top recommended eateries include Pinsere Roma, Drugo, Gavius, La Porta Del Principe and Amatrice - search these and all the other available options here.
NYE Live Streaming, Webcams
Places to watch live online, including live views of the city skyline and a cam at the Roman Forum:
New Years Eve Hotels
You won't have any problems finding a place to stay in Rome for the holiday season as the city and environs has literally thousands of places to choose from, but booking well in advance is always advisable for the best possible choice. Top establishments to consider include:
Grand Hotel de la Minerve at the Pantheon
Grand Hotel Plaza close to the Spanish Steps
Hotel Lord Byron, Villa Borghese
Hotel Palazzo Manfredi near the Colosseum
But there is something for most tastes and almost any budget - click here for the best Rome hotel deals.
Reviews & Sharing
The content on this page is written and maintained by Martin Kerrigan. If you have found it useful then please feel free to share it with your friends and family. If you have any comments or events to add to this page please Contact us.