Munich New Years Eve 2016
Fireworks, Events, Webcams, Parties, Hotels, Restaurants, Concerts
Munich, Germany, 31 December 2015, Midnight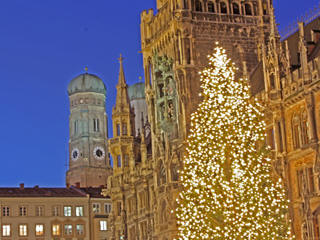 BY MARTIN KERRIGAN
The Bavarian city of Munich, or Munchen to the locals, is one of Germany's busiest cities when it comes to New Years Eve, with the people taking to the streets to celebrate the event in public with their neighbours, with large scale fireworks displays held across the city, lighting up the skyline as midnight strikes.
This is a city that is probably primarily associated with the famous Oktoberfest annual beer festival, and certainly any visit to Munich is often characterised by prolific consumption of German beer (the reputation of which comes in large part from very strict national quality guidelines) and local sausage. Munich also, perhaps somewhat surprisingly, has a thriving vegan scene including cafes, restaurants and even a supermarket, another excellent reason to give it a prominent place on my new years eve bucket list!
New Year Fireworks, Events, Parties
The big event in Munich over the holiday season is the famous Tollwood Winter festival on the Theresienwiese. The festival actually starts earlier in December and incorporates live entertainment including live music and circus acts before actually ending in December 31st with a last final big party and fireworks display at the Tollwood New Years Eve Party. Many people head to the festival earlier in the evening to enjoy the various food and drinks (primarily beer) tents and really make a night of it.
Away from the Tollwood event, crowds gather at various points across the city to watch the famous midnight fireworks displays. Popular vantage points include Englischer Garten and the Bayerischer Hof while the area around the Friedensengel peace angel offers fantastic panoramic views of the city.
The Olympic Park and the city's iconic Marienplatz also attract large numbers of visitors, with the latter in particular enjoying a thriving trade in it's many bars and restaurants throughout the evening.
If you're looking for a more intimate or private party, then the hotels and bars of Munich also host a number of new year parties and events. One top event to look out for is the New Year's Eve Glamorous Gala at the Munich Marriott Hotel - this offers buffet dinner, champagne, fireworks display and comes with good package deals to keep the room costs reasonable - more details and bookings are available online here.
NYE Live Streaming, Webcams
Places to watch live online - there are several excellent webcam views positioned at key points across the city, including excellent live views from the Olympic stadium and on the famous and popular Marienplatz.
New Years Eve Hotels
Accommodation in Munich is varied and plentiful. Top hotels include the Mandarin Oriental, Hotel Laimer Hof, Cortiina Hotel, Rocco Forte The Charles Hotel, Muenchen Palace Hotel and Sofitel Munich Bayerpost.
For availability and reservations in these hotels, plus many more, visit and book local hotels here.
Reviews & Sharing
If you have found the content on this page useful then please feel free to share it with your friends and family using the social media sharing tools below:
We're always interested in hearing comments and feedback from anyone who has attended these events, or if you have any information or updates that might be useful for us to add to the page then please Contact us or complete the feedback form below:
Other Popular Locations